A 'Summer Surprise Bag' Is Our New Summer Kickoff Tradition
by Rachel Garlinghouse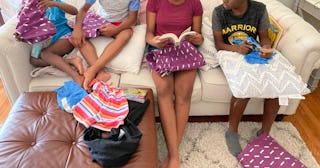 Courtesy of Rachel Garlinghouse
It's that time of the year when our kids—and us—face a major shift. Going from nine months of school, especially school during a pandemic, to summer break is a big deal. Whether your kids were homeschooled, partook in remote-learning, were hybrid, or in-person, this year was a real doozy. Let's issue a collective sigh of relief that it's over or almost over.
This shift leaves parents with one question: now what? What do we do with our kids for the next two-and-a-half-months? After all, our adult lives are still carrying on, business as usual. Between work, household duties, errands, and trying to have some sort of safe social life, how are we supposed to keep going when our kids' routines have been drastically altered? I have two ideas for you. First, create a summer to-do list for your kids. I promise, you won't regret some serious planning. Second, give your kids a summer gift bag full of surprises to make their summer magical.
You might be thinking, spend more money on the kids? Well, yes. The reality is, you were likely going to drop some serious cash on your kids all summer long anyway, between their activities, the constant snacks (oh my gosh, the snacks), and the gas money driving them all over town. Why not package up some fun for your kiddos and welcome them to summer?
Swimwear
If your summer plans include some water play, your kids are going to need gear anyway. Why not gift it to them? Swimwear isn't just swimsuits, but also swimsuit covers, flip flops, goggles, a beach ball, dive sticks, sunscreen, and sunglasses. Don't forget swim safety gear, like floaties, if need be.
Gardening
Well, more like digging. Gardening gear like hand shovels, gloves, seeds, and a watering can offers hours of play for kids who don't mind getting dirty and enjoy the art of science. My older kids like creating bouquets—so a pair of gardening scissors and a vase can make a great gift, too.
Books
We own a ridiculous amount of books, but to be fair, with four kids they can just trade with each other. Books don't have to be limited to paperbacks or hardcover picture or chapter books. Comic books, graphic novels, and audio books also make wonderful gifts. Of course, there's always your local library, but there may be restrictions in place due to the pandemic.
Snacks
The aforementioned snacks—the real cause of draining your bank account in summer. Get your kiddo's favorite to-go snacks and beverages, ready for traveling to and from practices or lessons or longer car trips. They're also perfect to grab-and-go when you're headed outside to play or a weekend with the grandparents.
Crafty fun
No joke — my kids' absolute favorite thing is a fresh stack of cardstock for origami, drawing, and other art projects. Markers, crayons, scissors, tape, paper, pipe cleaners, paint and paint brushes, googly eyes, glue, and stickers can keep kids busy while you get your to-do list taken care of. If you're a parent who has their kiddo learning in the summer–no judgement–don't forget flashcards and workbooks.
Playwear
I have zero time and patience for taking meticulous care of my children's clothing. Take stock and see what your kiddos need for the summer. You can't go wrong with some new budget-friendly tees and shorts, even if they are in hideous prints. If they make your kiddo smile, put them in your cart. Once a year, we buy each kid a white tee and a tie dye kit—welcoming summer with a new, custom tee.
Outdoor gear
Remember when we were kids? Hula hoops, a kickball, sidewalk chalk, and a jump rope went a long way. Encourage outdoor play with some gear that will keep them occupied. Don't forget to grab a new sprinkler, because a 1980s summer is where it's at.
Kitchen gear
Yes, kitchen gear can be fun. Buy reusable popsicle molds so your kiddos can create their own popsicles. These are a big hit at my house, especially fun combinations like chocolate milk and banana slices. Don't forget sturdy, reusable water bottles for the kids. If you have multiple children like I do, each child has their own stainless steel water bottle, each in a different color to keep track of whose is whose.
Building toys
Younger kids love wooden blocks, while older kids may prefer a new LEGO set. Building toys encourage creativity, problem solving, and—the main perk—hours of fun. Encourage your kids to build cooperatively and independently. One activity my kids love is a building contest, where we set a timer and then the designated judge offers awards like most colorful, scariest, etc. In a pinch, my kids build (and destroy) with the various-sized cardboard boxes stacked on top of our recycling bin.
Movie night
Movie nights are always a big hit. Gather up popular movie theatre style snacks like popcorn, candy, and drinks, and promise your kids a fun night in front of your home screen with everyone in their pjs.
Gathering up all your kiddo's summer needs and presenting them as a gift is a fun way to kick off the season. Plus, you were going to buy these things anyway—so why not bask in some glory for being the summer fairy godparent?
This article was originally published on