Sun's Out, Buns Out: Don't Forget To Slather Them In SPF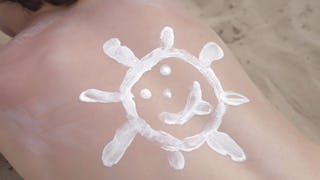 Yatso / Shutterstock
There are a lot of areas where I should maybe be a little more diligent when it comes to the health and safety of my children. We probably should be more consistent with hand-washing. My son once licked a hotel mirror, and my daughter licked the Crocs our plumber was wearing when he came by to fix our bathtub. Donuts are used as bribes because they work like a charm and I get a donut too. Who is going to turn down a donut? Not me.
But one area where I try to be on top of things is sun protection. There is sunscreen in the house and in my bag, so I'm always ready to apply and reapply. I seek out shady spots and buy bathing suits for my kids that would make a nun roll her eyes. You get a floppy hat! And you get a floppy hat!
Everybody gets a floppy hat!
And if I am going to take the time to wrestle with my children while they wiggle and complain about my painstaking efforts to protect them from UV rays, I want to make sure whatever is in the bottle is actually going to do its job.
This is also an area (one of the few) where I actively try to take care of myself. I wear SPF year round, and I try to expose my own skin — my face, especially — to the sun as little as possible. I'd wear a floppy hat in my car if it wouldn't obstruct my view of whatever the hell my kids are doing in the backseat.
Make sure to stock your home with fresh sunscreen this year. If you're not sure what to use, I have a few suggestions.
If you have a womb-fresh baby, it's best to keep them out of direct sun for at least six months. After that, this is a great sunscreen for the littlest littles. Its gentle ingredients don't irritate baby's sensitive skin, and it provides great broad-spectrum protection from UV rays.
This sunscreen is thick and can take some extra effort to squeeze out of the tube, but a small amount goes a long, long way. It has the added benefit of being waterproof, but do not assume that means your kids can go all day without reapplying. Pull them out of the pool after 80 minutes and repeat the joy that is slathering sunscreen on a child who just wants to get back in the water.
I keep one of these in my purse so I don't have to worry about a bottle exploding in there and making me yell all the swears. It's easy to apply, rubs in smoothly, and isn't greasy. If you're concerned about the small tube making it difficult to coat your kids, trust me. It's dandy.
Gotta look out for No. 1. Make sure you're hitting yourself with some good ol' SPF too. This BB cream is also a primer, prepping your skin for applying makeup in the morning and evening out your skin tone — all while providing excellent protection.
This will protect your face while providing a little tint to even out your skin tone. It does moisturize but isn't super-hydrating, so I would recommend this for skin types that are already a little oily or don't need much added moisture.
It's tempting to get a little lax on a cloudy day or let your kids keep playing instead of stopping to reapply, but this is an important area for diligence. Your skin is your skin, and everyone only gets one shot at keeping it healthy. So enjoy those beautiful days outside responsibly and with some peace of mind that everyone is ending the day without a sunburn.
This post contains affiliate links, which means we receive a small portion of the sale if you make a purchase using these links.
This article was originally published on