US Supreme Court Allows Trump's Transgender Military Ban To Go Into Effect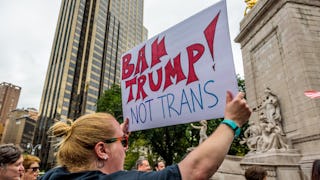 Image via Erik McGregor/Pacific Press/LightRocket via Getty Images
The Supreme Court votes 5-4 to uphold Trump's ban while litigations on the policy continue
In the summer of 2017, our hateful president began a tweet rant about no longer allowing transgender individuals to serve in the United States military. As tweets aren't really official policy, it was a few months before he actually tried to make it happen, and at that point, a federal judge blocked it.
Now, the Supreme Court has voted to allow the discriminatory policy to go into effect while arguments in the case continue.
In a 5-4 decision, the lower court's ruling to block President Trump's ban has been put on hold. Justices Ruth Bader Ginsburg, Stephen Breyer, Sonia Sotomayor, and Elena Kagan dissented. According to Bloomberg, the court didn't hear arguments on an expedited basis, but the court's decision to uphold Trump's ban strongly hints at what their final ruling will be — to uphold the restrictions the administration wants to place on transgender troops serving in the military.
U.S. District Judge Colleen Kollar-Kotelly initially put a partial ban on Trump's block writing in her decision that it's a form of gender discrimination. "There is absolutely no support for the claim that the ongoing service of transgender people would have any negative effect on the military at all," she wrote. "In fact, there is considerable evidence that it is the discharge and banning of such individuals that would have such effects."
President Obama lifted the prohibition on transgender troops serving in June 2016, which allowed them to serve openly in every branch of our military. Those who are opposed to Trump's ban say it violates the Constitution's equal protection clause — which, of course it does. A 2018 Pentagon report said the presence of transgender troops "risks unnecessarily adding to the challenges faced by leaders at all levels, potentially fraying unit cohesion, and threatening good order and discipline."
Defense Secretary James Mattis commissioned the report after Trump's July 2017 tweet that said the government "will not accept or allow transgender individuals to serve in any capacity in the U.S. Military." Mattis later said he was not consulted before Trump began that day's tweet spree. Mattis left the administration at the end of last year.
The policy isn't quite as cut and dry as Trump's cruel 2017 tweets would suggest — it does allow transgender individuals to continue to serve if they began transitioning once Obama's policy went into effect. It would bar a person from beginning to transition while a member of the armed forces. The Trump policy will also block those from joining the military who have already transitioned.
Mattis' report says that almost 9,000 members of the armed forces identify as transgender. Washington Attorney General Bob Ferguson argued in court papers that Trump's ban wasn't rooted in fact and that there's no evidence of any issues regarding transgender individuals serving in the military. "Openly transgender persons have been serving in the military for two and a half years and leaders from each branch have testified that their service has not harmed the military," he said. "Although the government cries that the sky is falling, it has offered no evidence to support its dire claims."
But since when has the Trump administration relied on evidence? Or truth? Or doing the right thing in general? The policy is yet another chapter in this nightmare administration where the cruelty is the point. Because it certainly can't be from a place of military knowledge or experience that a five-time draft dodger can say with confidence what is or isn't best regarding the incredibly brave individuals that volunteer to serve our country. To say this ban is an insult to their courage and strength is an understatement.
GLAAD has set up a petition to let people tell Trump that they oppose the ban. They're also sending copies of Trans Military "to all of the members of the Supreme Court because we think they need to hear the stories of the people who are actually impacted by this ban."
We can only hope they're listening.
This article was originally published on