Donald Trump Signs Anti-Abortion Executive Order - Surrounded By Men, Of Course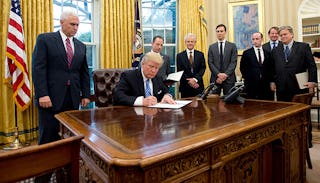 Photo by Ron Sachs/Getty Images.
Around the world, 70,000 women die from botched abortions every year
Surrounded by men, Donald Trump reinstated a law that eliminates safe health care options for women around the world. The day after the 44th anniversary of Roe v. Wade, Trump signed an executive order that bans federal funding for international health organizations that perform or even speak with patients about abortion services.
First, it's important to understand that federal money is not paying for abortions. The law that Trump signed Monday is known as the Global Gag Rule. "The 1973 Helms Amendment already prohibits foreign aid from going toward abortions; the Global Gag Rule goes a step further by barring NGOs who receive U.S. aid from providing abortions that they're paying for themselves or with other funds," The Cut Reported. The United States uses this law to tell organizations that they can't use their own, non-U.S. funds to pay for abortions or abortion counseling if they still want to receive funds for other planning services.
Here's the issue: restrictive abortion laws don't stop women from having abortions. They just make the procedure unsafe, according to the Guttmacher Institute, which tracks reproductive health care policy worldwide.
But because the Republican party can't move past its desire to control a woman's body, we have to hear about this sexist law every time there's a new president. It was first put into practice in 1984 by Ronald Reagan. Since then, Democrats repealed it – because studies show it hurts women – and Republicans reinstated it because they're obsessed with regulating a women's body. If pro-life people want to help women, then they'll push the GOP and Trump to throw out this outdated law. Why? Because it literally hurts women – 70,000 to be exact. By restricting safe abortions, we force about 20 million – mostly poor – women around the world to have unsafe abortions. And of those 20 million, 70,000 die from complications of the dangerous procedures, according to the Center For Reproductive Rights.
"President Trump's reinstatement of the Global Gag Rule ignores decades of research, instead favoring ideological politics over women and families," U.S. Senator Jeanne Shaheen (D-New Hampshire) said in a statement. "We know that when family planning services and contraceptives are easily accessible, there are fewer unplanned pregnancies, maternal deaths, and abortions." She's right. The Center For Reproductive Rights released a damning report titled "Breaking the Silence: The Global Gag Rule's Impact on Unsafe Abortion" in 2003 – more than 10 years ago. There's no excuse for reinstating a law that research shows will lead to pregnant women dying because of botched abortions.
Like Gloria Steinem said, "If men could get pregnant, abortion would be a sacrament."
This article was originally published on