40% Of Pet Parents Think Raising Pets Cost As Much As Raising Kids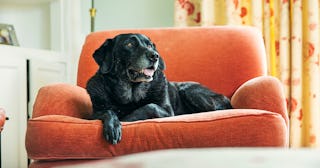 Justin Paget/Getty
A survey of 2,000 dog and cat owners found that two in five think having a pet is just as — if not more — expensive than raising a human kid
You don't need us to tell you that raising kids is expensive — and it hardly gets cheaper as they grow up, particularly if you factor in tuition costs, extracurricular activities, and basic necessities that come along with raising happy, healthy kids.
Pets are no doubt expensive too, and often come with unexpected costs for health care, training, and other unavoidable extras that rack up even if you do have pet insurance — which, itself, can cost in the hundreds to thousands of bucks per pet each year.
That said, a survey of 2,000 dog and cat owners found that 40 percent of pet parents think their beloved fur babies cost as much as — if not more — than raising human kids… because even though pets will never go to private school, sending them off to daycare, for grooming appointments, and medical expenses does add up quickly.
The survey, conducted by OnePoll in partnership with MetLife and as reported by People, analyzed the spending habits of pet parents, noted that the average pet owner spends more than $4,500 on their pet's basic needs every year. More than half of respondents (52 percent) say they spend more money on their pets than on themselves, with three in five pet parents specifically allocating around $200 from each paycheck just for their pet's necessities. Among the priciest items on the list: food, toys, flea and tick treatments, and medicine, which they noted costs just $60 less per year than their own medications/health treatments.
Sixty-one percent note that having a pet is costlier than they imagined, which we're sure parents of human kids can attest to, as well. And while plenty ended up factoring in some surprise costs (i.e. stain/odor removers, a first aid kit specifically for your pets), 74 percent said cost doesn't matter — as long as they've got a healthy, happy, and safe fur baby, which we'd also venture rings true for parents of human kids of all ages.
"For many pet parents, their animals are more than just 'furry friends' — they are part of the family," said Katie Blakeley, vice president and head of pet insurance at MetLife. "However, with all the joys of having a pet also comes financial stress, as many pet parents are willing to take on almost any cost to ensure that their pets are happy and healthy."
There's no denying that adding to your family — whether by baby, cat, or pooch — is costly, but the love they provide is endless… and that's kinda priceless, no?