Target Is Spending $300M On Employee Pay Raises And Sick Leave
by Madison Vanderberg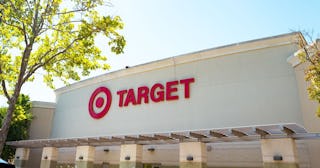 Smith Collection/Gado/Getty
Target reacts to Coronavirus news by doling out $300 million in pay bumps and benefits to its workers
If the coronavirus outbreak has shown us anything, it's who our true neighborhood heroes are. Doctors, nurses, grocery store employees, and delivery drivers, just to name a few, are the ones keeping our communities alive and well during these trying times and Target knows just how important its employees are. To reward its workers for their hard work during these uncertain times, the retailer is increasing everyone's hourly rates, handing out paid sick leave, and giving bonuses to certain team leaders.
"We continue to experience incredible demand across our business, and Target's ability to help our guests in this unprecedented time would not be possible without the strength of our team," Target CEO Brian Cornell said in a statement. "I am proud and humbled by the dedication and humanity they show to our guests every day."
First, Target is bumping everyone's wages by $2 an hour. Additionally, pregnant workers, workers over 65, and any employee with an underlying health risk are allowed to take up to 30 days of paid leave. Not only that, but Target is giving out bonus checks for anywhere from $250 to $1500 apiece to hourly store team leaders. All these efforts total $300 million for the company's 300,000-plus workers.
On top of that, Target is giving $10 million to COVID-19 relief efforts, which includes $1 million for a Target employee fund to assist workers affected by the coronavirus.
"With each passing day, it's clearer how indispensable our team is to communities across the country as our guests cope with the coronavirus," Cornell added. "Increasing their compensation for a job incredibly well done and ensuring continued compensation for those who need to care for themselves and their families is a reflection of our company's values and simply the right thing to do."
The only caveat to this financial boon is that the wage increases will only last until May 2, presumably to cover the coronavirus-related rush of business and frenzy as our country decides how long these business shutdowns will last.
Last week Target also announced changes to its already generous "backup care" policy which allows employees 20 days of in-center or in-home childcare or eldercare through a partner network. In light of coronavirus, Target waived eligibility requirements, copays, and other program details — making the program available to all employees.
If you've been in any store in the last two weeks, you know how hard grocery and retail employees are working. Shelves are being restocked at a furious pace, crowd control is in place, janitorial staffs are working overtime to maintain cleanliness, so for Target to reward their employees for their hard work during this time is right on the money.