Guy Documents His First Week Of Work At Target And It's Amazing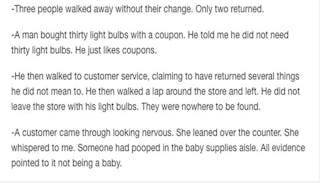 Target cashier documents his first week at work in hilarious viral post
Have you ever wondered after a shitshow Target run ending with kids sobbing at the register and everyone needing a nap if the cashier took note of your antics? If this Target employee's hilariously detailed recounting of his first week at work is any indication, yes.
Like, a big yes.
Tumblr user kimpossibooty took us inside the mind of a Target employee with five days of meticulous notes about the customers he encountered. The list has gone viral on Imgur and it's easy to see why. His observations are both funny and insightful without mocking or judging anyone who came through his register lane. By the end of this log, you'll probably be begging him to write an entire book about life as a retail worker.
Here is his diary, day by day.
FYI, when you're buying lingerie for your teen, the cashier probably feels your pain acutely. He also sees you with your savage lineup of kitty litter coupons. Oh, and those precious doggie stickers that silence your toddler just long enough for you to get the hell out? The cashiers kind of love that part of the job.
Day Two brought a new set of challenges including someone taking a dump in the baby supply aisle (who probably wasn't a baby) and a very creepy light-bulb hoarder. There was also a polite 3-year-old buying a Spider-man onesie all by himself and college boys purchasing spandex and make-up wipes. Because, why not?
On the third day, the stickers weren't so plentiful and our intrepid cashier blamed himself. The day also brought an old woman stocking up on wine and an old man intent on getting tanked off Mountain Dew (um…ok). A few savvy customers cleared out the marked down school supplies and as he wryly points out, they're basically math problem characters come to life.
Day Four brought a tiny power trip for the narrator as he got to decide who benefits from the store-wide 10% off purchase sale and who doesn't. Note to self: always be extra nice to the Target cashier in case of a secret sale. He mentions how polite kids handling their own transactions make his day, so let's not hesitate to give them practice. It sounds like a nice break from the endless parade of weird adults.
And on the fifth day, he saw a possible time traveler and an old couple taking turns tickling one another (wish he had video of that). He also had a guy purchasing 36 pairs of underwear and 262 adult diapers. Alright, then.
Working in retail can be mind-numbingly boring, but paying attention to the little quirks of each customer can make it a fascinating study in human behavior. This guy has it figured out and will hopefully continue to share his observations on the human condition within the walls of Target.
Judging by this viral post, he'd have plenty of eager readers.
This article was originally published on