New Gender Neutral Kids' Bedding? Shut Up And Take My Money, Target
by Maria Guido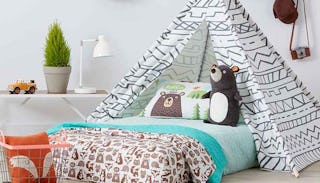 We've been pushing pink frilly princess stuff on girls since the beginning of time. Same goes with trucks and brown and blue motifs for boys. The fact is, your daughter probably loves princesses… and trucks. And your son might appreciate a cool pastel color palate. Once again, Target is making a move that allows parents and kids to choose merchandise without being pigeonholed. This time, it's via a new kids' bedding line called Pillowfort. And you're going to love it.
"It was an aisle of pink, fairy princesses, ponies and flowers," Julie Guggemos, Target's senior vice president of design and product development told Star Tribune about Target's current merchandising for children's bedrooms. "And for the boys it was rockets and dinosaurs. Well, you know what? Girls like rockets and basketball. And boys like ponies. Who are we to say what a child's individual expression is? We really wanted to develop a collection that would be universal."
"Girls were picking prints that the boys picked and vice versa. They're not afraid to express who they are,"Guggemos said. "We picked up on that right away and decided we were getting in our own way a little bit with some of those paradigms … It's time to change."
Target's most recent line of kids' bedding and room accessories foregoes the traditional archetypes we usually see on gendered patterns: there are no princesses, fairies, or race cars here. Instead, the line focuses on animal and nature motifs and interesting color schemes to make the line less gender specific.
Sure, there are still pastel pinks and purples and bold blues and reds, but the different bedding sets are not specifically targeted toward boys or girls, and are not labeled as such. Also, the accessories mix and match so kids can have a pink dinosaur resting on their green bedspread next to their cat lamp. It's cute as heck.
What child wouldn't love that tent? Or that panda head? Or that fox and bear pattern?
Look at some of these adorable accessories:
Obviously, some of these motifs look traditionally "female" or "male" but imagine if we'd never labeled this stuff? If kids could've always just picked what they wanted? Some pretty interesting decorating ideas probably would've evolved — just as they are now.
Of course there are those saying the move is "PC nonsense" or part of that "feminist agenda" people on the internet like to insist exists. They are sorely in need of a hobby. The rest of us will be running to Target to let our kids choose from this awesome collection, without quashing their own tastes in the process.
As if we needed another reason to give Target all of our money. The new collection for kids will be available starting 2/21.
This article was originally published on