Target Is Selling Matching Family Swimsuits And You're Gonna Want All Of Them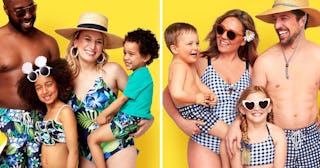 Target
Your whole family can match at the beach because you're all just that adorable
The sun is finally, finally out and the beach is officially calling your entire family's name. If you'd like to take your summer game to a whole other level, we'd like to turn your attention immediately to Target's new matching swimsuit collection. Because it will be very, very cute if you and the fam wear matching outfits while you're all sunbathing and don't let anyone tell you otherwise.
Related: The 9 Best Maternity Swimsuits To Flaunt Your Baby Bump
Caution: there's a whole lot of matching adorableness coming your way in 3…2…1…
Okay, so, tropical swimsuits are cute in general. They're fun and bright and will make you feel like you're in Bermuda even if you're sitting in the kiddie pool hoping that nobody just peed near/on you. Now, how about tropical swimsuits for the whole entire family? Get your ruffly, dreamy, flower game on with these matching sets of swimwear.
Related: These 9 Bestselling Swimsuits Have A Cult Following On Amazon — And They're All Under $30
And, I mean, helloooo, so much family cuteness. We love how the suits coordinate, but are still unique styles and not totally identical.
More of a gingham type of gal? Rock this cute swimsuit along with matching sets for the rest of the fam and you'll feel like a vintage dream come true.
1950's style is represented in a huge way with this suit, and we're very here for it.
Related: The Coolest Rash Guards For Parents Who Don't Want To Bare It All (Or Get Sunburn)
We are also loving the kiddo version.
For everyone who previously rolled their eyes at the idea of matching swimsuits for the entire family… we'd like to present you with THIS extremely adorable image. Bring all of the gingham. Bring on all of the summertime cuteness. No regrets.
There's just no way that you'll be in a bad mood when your whole fam is rocking this super bright, fruit-themed matching swimwear. It's also a pretty great reminder that you should probably order a sangria for your beach time hang, STAT.
The trunks are equally citrus-y cute.
Is your family all kinds of patriotic? Then everybody should be rocking these American flag swimsuits. It's basically be like July 4th all summer long, which probably means you need to load up on all of the hot dogs, potato salad, and corn on the cob immediately.
Okay, hopefully you've officially been converted to that matching swimwear ~life~. Haters might hate, but you're all gonna look way too adorable to care.
This article was originally published on