Target's Releasing A Sensory-Friendly Kids' Furniture Line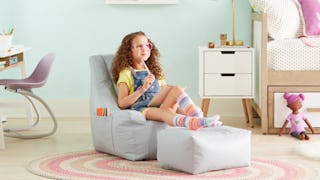 Image via Target
Target is listening to what parents need, and the result is this amazing line of sensory-friendly furniture for kids
When kids have sensory sensitivities, they might struggle to feel comfortable, safe, and calm no matter where they are. And that means there are parents looking for furniture and other household items that speak to the needs of their sensitive kids, whether they've been diagnosed as being on the autism spectrum or whether they have separate sensory challenges.
Well, Target asked parents what they needed and developed what they wanted: a new line of furniture called Pillowfort that is great for all kids, but specially designed to meet the needs of kids who thrive with the help of sensory-friendly designs.
And guess what? All 20 or so pieces are affordable (starting at $20 and topping out at $100), functional, and, in our opinion, cute as can be.
"We want all guests to feel welcome and included at Target," senior vice president Julie Guggemos said in a statement. "With our Cat & Jack and Universal Thread adaptive and sensory-friendly apparel, we've seen that little details can have a huge impact. I'm so proud to bring that spirit of inclusivity and incredible design to Pillowfort's new sensory-friendly assortment, which hopefully can bring more ease and joy to our guests' everyday lives."
The line starts off with a cozy bean bag cocoon chair that's not only great for lounging but that is also made from ultra-soft velvet that's liquid resistant. If it does get dirty, the cover is easy removable and machine washable.
Next up, a crash pad that is as good for relaxing and reading as it is for roughhousing. In addition to being easily washable (like everything in the line), it's also filled with foam that can handle jumping and activity.
The pineapple floor cushion comes with several sensory surprises: a velvet satin cover is soft as can be, while a crinkle top adds interest. It is also so cute that we might die. If it's too tropical for your tastes, there's also a fluffy flower floor cushion that's just as soft and practical (and a little easier to travel with).
For kids who feel calmer and safer in cozy, quieter spaces, the hideaway tent is a steal at just under $50. Available in grey and blue, the tent can hold other furniture from the collection and comes with two cord ports for electronic devices, a place to hang a light, and a carrying case for easy transport.
Then the ottoman and lounger give kids a great place to read or relax – that's filled with miniature beans for optimal comfort. It's got a pocket for books and activities, a carrying handle, and an easy-to clean surface.
Target also heard from parents that their kids love to rock for comfort, and developed both a rocking desk chair and activity chair – that's also super easy to clean and under $100.
Finally, they're offering kids' six-pound weighted blankets that offer the security and comfort of a hug, so kids can relax, rest, or sleep peacefully. The adorable blankets have interior ties and duvets that are easy to remove and wash.
This is far from the first time that Target has listened to the needs of parents and their kids – and far from the first time that they have recognized the needs of all kids. They already have lines of sensory-friendly apparel for kids and adaptive apparel for those with various abilities, not to mention that they feature kids of all abilities in their marketing. Honestly, this is all so great that we don't even mind that we spend five times what we planned to whenever we walk through their doors.
This article was originally published on