Girl Dresses As Target Employee At Bullseye-Themed Birthday Party Inside Store
by Madison Vanderberg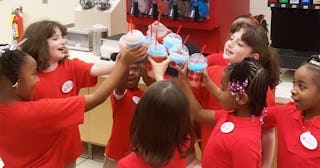 Courtesy of Rikki Jackson and Bailey Lawrence
Eight-year-old girl celebrates birthday inside Target because she loves it so much
Target has always held a special place in the hearts of women and parents all over America. We all know the thrill that is stocking up your oversized red plastic cart, but now the Target obsession has trickled down to our kids' generation and they are quite possibly even more enthusiastic about the chain store than we are. One little girl from Atlanta, Georgia loves Target so much that she held her birthday party inside the store and all her party guests dressed up like Target employees and performed typical store duties like returning go-backs and working the register.
Eight-year-old Brayden Lawrence's aunt Rikki Jackson documented the Target birthday on Twitter and joked that "when she asked for it, we were like ummmm how do we make this happen."
Jackson told The Today Show that Brayden will sometimes ask to go to the store just to walk up and down the aisle, so the family knew they had to find a way to pull this off. "Target doesn't do parties," Jackson shared. "We had to ask special permission from the manager lmao." Jackson gave a shoutout to manager Albert at the Camp Creek Marketplace Target in East Point, Georgia who found a way to make Brayden's Target dreams come true.
Target reserved the entire food area for Brayden's birthday where the kids enjoyed a Target-themed cake, Icee's, and Starbucks cake pops. Later, Brayden's guests dressed in matching red polos and got to experience the thrill of pretending to be Target employees for an afternoon.
"We got all the kids uniforms & walkies and the manager made them name tags! They did a scavenger hunt where they had to find stuff throughout the store and then put it back afterwards since that's what employees do," Jackson shared on Twitter. "We bought all the kids gift cards to spend on an item of their choice and my niece got to check them out!
Brayden's mom later created an Instagram account for her Target-loving child and her Insta bio not-surprisingly says: "Brayden. Just a girl who loves Target."
The day after the party, Brayden's Aunt went back to Twitter to confirm that "yes, we were back at Target today."