Taylor Swift Is Dropping Her Rerecording Of 'Love Story' Tonight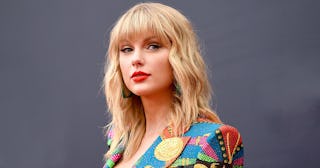 Jamie McCarthy/Getty
Taylor Swift says her re-recorded "Love Story" is dropping tonight, but her announcement seems to hint at much more than that
Calling all Swifties! Taylor Swift just made a big announcement on Instagram: She's dropping her first single from her re-recorded catalog. It's going to be "Love Story," and it'll be available to purchase and stream tonight, at midnight.
"This process has been more fulfilling and emotional than I could've imagined and has made me even more determined to rerecord all my old music," she wrote. "I hope you'll like this first outing as much as I liked traveling back in time to create it."
In her announcement, Swift also revealed that the single is dropping ahead of her first fully re-recorded album, Fearless. And the new version of the album will include six previously unreleased tracks that she wrote during the same era.
"Only I know which songs I wrote that almost made the Fearless album," she wrote. "Songs I adored, but were held back for different reasons."
Swift continued, "I've decided I want you to have the whole story, see the entire vivid picture, and let you into the entire dreamscape that is my Fearless album."
Fans were quick to notice something about the announcement, though. Scattered throughout it in seemingly random places are out-of-place capital letters. If you combine them all, they spell out "April Ninth."
Could that be the date of the album release? Could she be dropping he entirely re-recorded catalog then? Who knows. But knowing Swift, there will be a big surprise coming on that date, which is also an Easter egg itself — the ninth day of the fourth month? Add them together and you have 13, famously the singer's favorite number.
Swift is re-recording the first five albums in her catalog following a very public battle with her former record label, Big Machine, and its founder, Scott Borchetta. In 2019, Big Machine was sold to Scooter Braun, a producer Swift says has bullied and harassed her throughout her career (as well as represented other artists, like Justin Bieber and Kanye West, who she says have done the same). At the time, she called the deal "her worst nightmare." Her catalog has since been sold again, and she posted receipts online that showed Braun refused to sell her own music to her for any price.
Once the re-recorded albums are finished, Swift will finally have complete ownership over her own music, and we love that journey for her. In the meantime, we'll be listening to "Love Story" and trying to figure out what's happening on April 9.