Ted Lasso Is 'Toasting' People On Twitter With Joyful Little Pep Talks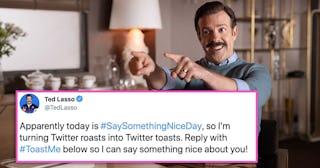 Ted Lasso/Twitter and AppleTV
Ted Lasso goes on Twitter kindness spree, writing bespoke "toasts" to anyone who asks
During the pandemic, everyone I know told me I just had to watch Ted Lasso, that Jason Sudeikis show about a European football team. They said it was the perfect feel-good comedy to watch during a terrible pandemic year and it was. Starring a hopelessly optimistic football coach who literally whips his rag-tag team into shape with kindness, biscuits, and the phrase "Howdy, y'all," watching Ted Lasso was truly the most joyful TV-viewing experience. After I finished the ten episodes of Season 1, I was like, sad for a day. To tide us over until Season 2 lands on Apple TV on July 23, 2021, Ted Lasso, the man, (or whoever runs the Ted Lasso social handle) is going through Twitter and writing specific and curated nice things to fans of the show.
"Apparently today is #SaySomethingNiceDay, so I'm turning Twitter roasts into Twitter toasts. Reply with #ToastMe below so I can say something nice about you!" the fictional Ted Lasso tweeted.
If you tweet at Lasso to "Toast Me," he will. All day long he's been tweeting out sweetly uplifting platitudes to fans who ask him to.
Since Lasso plays an American football coach who travels to England to coach the Richmond football club (i.e. what we Americans refer to as soccer), a bunch of actual football teams chimed in to get their personalized pep talks.
"Y'all are my favorite Galaxy, except for the Milky Way of course. Which is also my favorite chocolate bar," he said to the Los Angeles soccer team the LA Galaxy.
"Coach Snyder's defensive strategy should be required viewing for all coaches (no 🤞needed)," he said to the Utah Jazz.
Shark Tank star Barbara Corcoran tweeted at Lasso, to which he responded, "You've always been my favorite shark. Also, would you back a lidless peanut butter company? Imagine how much $ we'd save on the lids!"
To a guy named Zachary Ryan, who asked "please #ToastMe, i will frame it and hang it on my wall," Lasso wrote, "I'm just going to call you Zach Ryan. Because it rhymes with Jack Ryan, who's just the coolest, like I'm sure you and whatever collection of things you have on your wall are."
To a man who stubbed his toe, Lasso said, "Here's to you, Dave, and the famous saying 'lightning never strikes thrice.'"
To a sweet man who submitted a selfie, Lasso wrote, "Normally in sports I'm not a fan of 'ties,' but on your neck, sir, it looks darn good."
He also toasted brands, like Target, writing, "Cheers to the only place where you walk in to get detergent and leave with 17 candles and a Macho Man Randy Savage t-shirt."
Lasso, much like the tone of the show, got right to the stuff that matters, and toasted people who were struggling and needed a signature Coach Lasso pep talk.
To a mom grieving her son, Lasso wrote, "One way I look at grieving someone when they're gone, is that it's the cost of loving them while they're here. And I believe it's always worth it."
To a woman who said she recently broke her arm, Lasso said, "Usually when someone breaks their arm, they're reaching for something better. And I admire the heck outta that Flexed biceps."
Honestly, we all need a Coach Lasso in our life. What a gem of a fictional man.