Need A Little Extra Comfort? Try These Teddy Bear Coloring Pages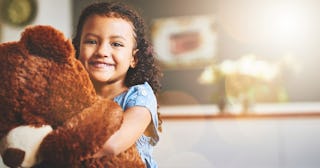 Getty Images
Is there anything more comforting than a teddy bear? The childhood toy comes in all shapes and sizes, meaning that it's quite a fun thing to color in. And no, you're never too old for teddy bear coloring pages. Whether you're paying tribute to your best stuffed buddy or completely freestyling, coloring these teddy bear pages can be an excellent use of your time. If you've got kids and are looking for good ways to entertain, these drawings may be a great distraction — especially if you're looking to cut down on screen time a bit.
Lucky for you, we made it easy to find a bunch of teddy bear drawings ready to be colored in. Feel free to download these, print them out, and share them with your family.
Free Teddy Bear Coloring Pages
1. Teddy Bear With Heart
This cute bear slightly resembles a Care Bear, which makes him even more fun to draw in. With a big heart on his belly, this teddy is also Valentine's Day appropriate. Have young kids who are looking for a Valentine's Day gift for a loved one? Personalized colorings of this bear would make a special gift.
2. Teddy Bear With a Gift No. 1
Speaking of gifts, here's a bear holding a big present. It could be for Valentine's Day, or you could even save this coloring for next year's winter holidays. The best part about coloring in presents is that there's no limit. It could be black with a white bow or purple with orange polka dots. Did you know Thomas Jefferson used to keep two grizzly cubs on the White House grounds? He later gave them to the museum operator Charles Willson Peale.
3. Teddy Bear With a Gift No. 2
This teddy bear is also holding a parcel. With a fun bow, you can make this bear ultra-feminine if you want. Or, you can go against the grain and use darker colors to give her a more intriguing, deep personality. Be adventurous! If your kid loves all things teddy bear, they probably know the "Teddy Bear's Picnic" song. Well, fun fact: When the song was first created, it was called the "Teddy Bear Two-Step." How cute!
4. Happy Teddy Bear
After the year we all just had, we're all taking smiles everywhere we can get them. After choosing this coloring page to fill in, you'll be smiling as well. You should enjoy life as much as this bear does! Fun fact: Bears can smell food, a mate, or predators from miles away! They can even tell when fruits are ripe.
5. Tea Party!
Could this drawing be any more fun to color? It boasts so many friends and so many details. For an extra challenge, you should pay very close attention to shading in the tablecloth. The right colors can make the whole picture pop. On a side note, aren't you getting a Goldilocks and the Three Bears impression from this picture? Here's an interesting fact for you: Robert Southey, the author of the book, originally wrote about an ugly old woman who visited the bear's home instead of Goldilocks. The tiny blonde burglar we've come to know and love was added in later versions.
6. Happy Family
While the teddy bear isn't the main focus in this delightful drawing, it's this visual as to why teddy bear coloring pages exist in the first place. Teddy bears are often our first friends, so they hold a special place in our hearts. Coloring them in brings similar comfort. Fun fact: If your child's teddy is a grizzly, they're more than apex predators. They also forage for berries and dig into the sand for clams. They even go fishing! Do you know which bug is a bear's favorite to eat? Fun fact: It's moths!
7. Valentine's Teddy Bears
Is there anything cuter than two teddy bears in love? If not love, at the very least, infatuation. Let's just say they've probably had a few Zoom dates and can't stop texting each other. If you're looking to buy your kiddo their own teddy companion, your options are endless. There's a bunch of characters to choose from, like Winnie the Pooh, Paddington Bear, Care Bears, Smokey the Bear, Fozzie Bear (The Muppet Show), Rupert, Corduroy, and more! Fun fact: You can find the original stuffed animals who inspired Winnie the Pooh on display at the New York Public Library's flagship Stephen A. Schwarzman building. Pooh, Eeyore, Piglet, Kanga, and Tigger have been there since 1987.
8. Teddy Bear
While those claws may make this guy seem more ferocious than the other teddies, his scarf really evens out his image. Give this bear a dazzling neck-warmer to brighten up his cold winter days. Another fun fact: Contrary to popular belief, Koalas are not part of the bear family. Despite their button nose and super cute teddy bear build. They're part of the marsupial family, like kangaroos. Beanie Baby bears are the most popular Beanie Baby collection. There's even a Princess Diana bear that's dressed in royal purple with two flowers on its heart. She also comes with a license, a crown, and royal cape.
9. Teddy With a Valentine's Letter
We all love getting mail (you know, when it isn't a bill). Celebrate love with this pro-USPS teddy bear who likely prefers sharing its deep emotions through the written word. Give the kids this page to color and send to their grandparents — who'll likely put it right on the fridge. Here's a strange bear factoid. Do you know what a growler or pizzly is? Well, in Alaska and Canada, where grizzly and polar bears share land, they mate. It's typically male grizzly bears and female polar bears and their babies are typically light-colored and have big heads.
10. Girl Playing With Her Teddy Bear
This heartfelt image is perfect for the girl who can't travel anywhere without her best bear. These two are quite close, and coloring them in might bring you positive memories of growing up. This little girl and her bear prove that there's nothing like a good bear hug. Did you know that the term bear hug has been around since 1846?
Click here to print all of the teddy bear coloring pages at once!
This article was originally published on