Teen Dies After Being Attacked By Girls In School Bathroom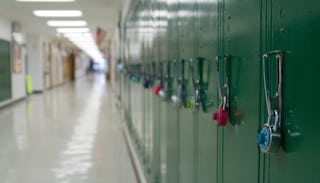 Image via Shutterstock
High school student dies after being attacked by teen girls in the bathroom
A high school girl was killed as a result of injuries sustained in a fight early yesterday morning. The Delaware teen was the victim of an attack at the hands of two other girls in a school restroom before the start of the classes that day.
Social media is rampant with rumors of the motivation behind the attack, but the cause of death for sophomore Amy Joyner is still being investigated. The New York Times reports that she was 16 years old and a student at Howard High School of Technology in Wilmington. The attack happened at 8:15 am yesterday, right as classes were about to begin. According to ABC 6 News, school principal Stanley Spoor says two girls were involved in Joyner's death and are being questioned by police.
While the reason Joyner was killed remains a mystery, ABC 6 News quotes student Atiyya Wilkes saying, "Whenever we had a problem, she would come to us and talk to us, and I never would of thought she would be the girl that would get killed like that." There was a vigil held for Joyner last night with many students and parents praying for her and trying to make sense of such an awful tragedy.
By all accounts, Joyner was a good kid — not a fighter and certainly not one to chase trouble. In fact, she was the opposite. Fellow students describe her as a calm counselor when other kids had conflict with one another. According to Delaware Online, student Nik Stryminski explains that Joyner once helped break up an argument between himself and another student before it turned violent. "She wasn't worried about herself. She was worried about me not fighting," he said. "She didn't believe in fighting, and the craziest thing is she died in a fight."
Stryminski further claims that Joyner didn't go into that bathroom to fight, but to talk things out with the two girls. Of her calm demeanor, the boy says, "If I were to have kids I'd want them to hang around someone like her."
Neighbors described Joyner as a quiet teen who mostly kept to herself. Maxine Wilson, who lived near her, says, "She would walk to the bus stop by herself. I had never seen this little girl messing with anybody."
Ironically, the school kicks off an anti-bullying campaign every spring. But what happened to Amy Joyner went far beyond bullying. Further, there's no proof as of yet that bullying even preceded the fight that led to her death. Right now, all we know is that a child was murdered at school as the result of a violent attack. This is absolutely terrifying and something all parents should be paying attention to.
The fact is, so much of a teen's social life happens outside of school now. With the advent of social media, conflicts between kids have taken on a whole new viciousness and reach. While schools have struggled to control difficult situations between students that often trickle outside the bounds of the building, it's clear that there is more to be done. Kids have constant access to each other and every bit of information they put on social media. Fights can brew without anyone knowing about it — without a single word being said out loud.
While there are no official details yet about why Joyner was attacked, several posts on Instagram under the hashtag RIPAmy suggest it may have been over a boy.
A boy.
A pair of teen girls possibly murdered one of their peers — over a boy? This is unreal. There is much talk about how involved parents and teachers should be in the goings on between teens, but incidents like this suggest that we need to learn as much as possible about our kids. Their friends, their heartaches, their relationships, their mental health. If anyone knew about the stirrings between Joyner and the teen girls who beat her to death, maybe something could've been done. Now, it's too late.
While more details will likely be released over the coming days about why Amy Joyner was attacked, the fact is, the reason doesn't really matter. A girl was beaten to death in a school bathroom and it's a terrible tragedy no parent should have to suffer through.