'Teen Mom' Jenelle Evans' Husband Shot And Killed The Family's Dog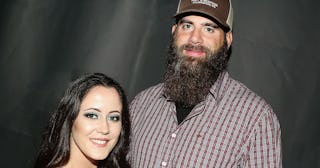 Bruce Glikas / Getty
David Easton admitted he killed the dog after it snapped at his daughter – and he isn't sorry
Teen Mom star Jenelle Evans confirmed today that her husband killed their family dog, and it's far from the first time that former Teen Mom 2 reality star David Easton has acted violently or been accused of violent behavior.
This morning on Instagram, Easton posted a video of the family dog, Nugget, appearing to snap at two-year-old Ensley, the daughter of Easton and Teen Mom 2 star Jenelle Evans Easton. Then in the caption, alludes to unapologetically killing the pet.
https://www.instagram.com/p/Bw6vW-mgdNN/?utm_source=ig_embed
"I dont give a damn what animal bites my baby on the face… whether it be your dog or mine, a dog is a dog and I dont put up with that shit at all," he wrote, apparently admitting to killing the dog. "I'm all about protecting my family, it is my lifes mission. Some people are worth killing or dying for and my family means that much to me. You can hate me all you want but this isnt the first time the dog bit Ensley aggressively. The only person that can judge weather or not a animal is a danger to MY CHILD is ME."
According to People, the Columbus County Sheriff's Department received a call yesterday from Nathan Griffith, the father of Evans' four-year-old son Kaiser, who according to Griffith, may have witnessed the animal's death. A public information officer tells People, "The male caller referenced making sure his son was safe because his ex-fiancée's husband shot a dog in front of him." The police did come and check on Kaiser, who was safe, but didn't investigate further because only a welfare check on the child had been requested.
Jenelle posted a little over an hour after Easton's confession, confirming that her pet was dead, and mourning the loss of the French bulldog.
"Nugget… I'm crying everyday," she said, suggesting that the incident took place a few days ago. "I love you so much and I'm so sorry. I'm speechless. You were my side kick and knew the moment I felt bad and would cuddle with me. You still had a lot to learn and a lot to grow from your lessons. Everyday I wake up you're not here, when I come home you're not here, when I go to bed… you're not here. You're gone forever and there's no coming back."
It's not totally clear whether or not it's illegal to shoot and kill your own dog in North Carolina, where the couple lives. Some states, like South Carolina, have language that allows dog owners to "euthanize" their own pets as long as it's without cruelty – but people in other states have been found guilty of animal cruelty after incidents similar to the one described by Easton and Evans. If the dog isn't immediately putting someone's safety in danger, there isn't a real reason to shoot the dog, instead of turning it over to animal control or having it humanely put to sleep with the help of a vet.
This is not the first time that Easton has displayed violent or frightening behavior. In October 2018, 911 was called to the couple's house because of an assault – but by the time police arrived, the story had changed to Jenelle "tripping and falling." Just months before, the couple was investigated for child abuse after Evans' ex called 911 when he claimed his son said Easton beat him with a stick. Last March, he was fired from Teen Mom 2 after a homophobic and transphobic tweet. He also regularly posts pictures on Instagram of semi-automatic guns and Confederate flags.
Dog bites and dog attacks are common – and a very common and valid concern for parents, as half of dog bite victims are kids. What can you do to prevent dog bites from happening? First and foremost, don't allow your babies and toddlers to be alone with a dog, even your own dog, since kids this young don't know how to avoid antagonizing an animal. Secondly, teach your kids as early as possible about dog safety, from staying away from strange dogs, to never pulling a dog's tail or ears. Finally, report aggressive or dangerous dogs to animal control.
If your dog bites your child, you have a lot of options, even though many of them involve giving up your pet. These options totally do not include shooting your dog in the back yard in a fit of anger. Instead, start by separating the two, getting your child the medical attention they need, and consulting with your vet about the best options for your dog.
This article was originally published on