Teen With Autism Who's Usually Nonverbal Delivers Powerful Graduation Speech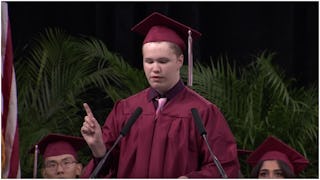 Image via YouTube
A teen with autism who is mostly nonverbal blew his classmates away with his inspiring speech
For most of his life, 17-year-old Sef Scott only spoke a few phrases. The teen was diagnosed with autism when he was 4, and mostly responds to questions with yes or no answers. A few weeks ago, Scott shocked everyone by delivering a speech at his high school graduation. The video footage — which has since pulled in close to 100,000 views — is powerful and completely inspiring.
When Scott found out that students could audition to deliver a graduation speech, he was immediately on-board.
"He jumped up — he does these shiver excitement things when he's excited — and he looked me in the eye and very loudly said 'yes,'" Vicki Scott, the teen's mother, told TODAY. She added that she was "floored" by her son's reaction because he normally tries to speak as few words as possible, and often chooses to deliver lines from movies instead.
The family worked together on Scott's speech. It took them seven weeks to complete, according to The Washington Post, and Scott had to try out in front of a panel of judges who don't know him.
When Scott got up to the podium on the day of graduation, he acknowledged that his speech would probably come as a surprise to many.
"Unexpected. That is what I want you to remember. Unexpected," Scott began. "First and foremost, I would imagine that to the seniors that know who I am that it is entirely unexpected that I would be standing here giving this speech. Just by being here speaking to all of you — me — that alone is unexpected."
He went on to offer important, thoughtful words of wisdom to his graduating class. "You can sprinkle unexpected moments throughout your everyday life that can benefit those around you with very little effort on your part," Scott said.
He urged his classmates to show kindness to people, even in the smallest of ways: Offer your place in line to a stranger. Donate your concert tickets to a non-profit. Compliment the person who helped you at the grocery store. Those simple acts could brighten up someone's otherwise gloomy day, Scott says.
"Don't follow someone else's dreams," he advises his classmates. "Don't waste time on something you never wanted. Do the unexpected. It's your life that you are living, not anyone else's, so do what fulfills you. Don't fear the future, don't fear the unknown. Will it be unexpected? Yes. Yes it will. But that does not make it wrong."
Unsurprisingly, there were quite a few tears in the audience. Scott's mom told TODAY that when people in the stands started crying, she started crying as well. Luke Traina, Scott's friend and baseball teammate, came to the graduation just to hear him speak — and couldn't have been prouder.
"I was really nervous, I was saying prayers the whole entire time," he told the Post. "But as soon as I heard him start I knew he had it. When he started speaking it was like all of a sudden the boy trapped inside him all those years got to have his voice heard."