Brothers Cleaned Out All Local Stores Buying 18K Bottles Of Hand Sanitizer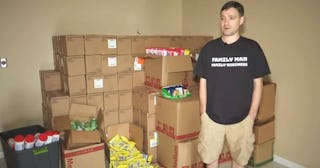 WRCB Chattanooga/Youtube
The brothers have since donated the products to a local church
Two brothers have made themselves famous by trying to take advantage of people during the coronavirus crisis. They purchased thousands of bottles of hand sanitizer and medical masks during the onset of the pandemic with plans to later resell it a higher rate. They are now being investigated by the Tennessee Attorney General's Office.
Matt and Noah Colvin of Hixson, Tennessee, were served a complaint from the AG's office after they bragged to local media outlets, showing a garage full of masks, hand sanitizer, antibacterial wipes, and other cleaning products. Their plan was to resell them at an inflated rate in-person and online.
"I saw a demand, that's what I have to say about that," Matt Colvin told Chattanooga station WRCB-TV. He and his brother drove across Tennessee and Kentucky buying as many products as possible from stores like Dollar Tree, Walmart, Staples. and Home Depot. They began selling the items on Amazon but were quickly shut down after complaints of price gauging after they sold approximately 300 bottles of hand sanitizer for between $8 and $70 each, he told The New York Times.
As millions of people around the country search for these products to help fight the spread of the coronavirus, the Colvin brothers are sitting on 17,700 bottles of hand sanitizer alone with no idea how to sell them. "It's been a huge amount of whiplash," he said. "From being in a situation where what I've got coming and going could potentially put my family in a really good place financially to 'What the heck am I going to do with all of this?'" File that question under the category of "perhaps that's something you should have thought about before trying to profit off a pandemic."
After being shut down online and blasted on social media platforms, the Colvins now say they will be donating the remaining hand sanitizer to a local church and first responders. A spokesperson for the Tennessee Attorney General's Office confirmed Sunday that they did, in fact, donate the items, Huffington Post reports.
A spokesperson for the Tennessee Attorney General's Office confirmed Sunday that most of the products were donated to a local church after the office verified the church's plan to disseminate the hand sanitizer. Roughly one-third of the items were being held to return to Kentucky.
Regardless of their forced change of heart, the AG's office will still be looking into the matter. "We will not tolerate price gouging in this time of exceptional need, and we will take aggressive action to stop it," said Tennessee Attorney General Herbert H. Slatery III and Kentucky Attorney General Daniel Cameron in a joint statement. "During this pandemic, we ask that you report suspicious activity to the Division of Consumer Affairs and refrain from threatening or hostile communication with individuals or businesses you may suspect are price gouging. Our team will review complaints closely and we are prepared to act to protect Tennesseans."
They concluded by saying: "This is a time where we have to focus on helping our neighbors, not profiting from them."
This article was originally published on