Authors React To Texas Lawmaker's 'Investigation' Into Their Books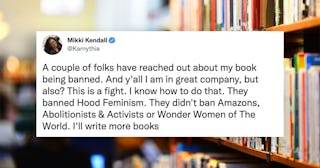 Mikki Kendall/Twitter and connel/Shutterstock
A Texas republican representative sent schools a list of books about race or sexuality that are under investigation — and now those books' authors have responded
Texas's determination to drag the entire state back to the dark ages continues to plow forward as Republican state lawmaker Matt Krause has launched an investigation into Texas school districts over any books that talk about race or sexuality. Basically, frank discussions about race, sexuality, and intersectional feminism, are too much for Krauses's fragile straight white male ego and the authors of these books are not having it.
The lawmaker sent Texas school districts a list of books he's "investigating."
Per The Texas Tribune, state Representative Krause, in his role as chair of the House Committee on General Investigating, notified the Texas Education Agency that he is "initiating an inquiry into Texas school district content" and sent them a 16-page list of about 850 book titles and asks the districts if they have any of these books.
The schools then have to comply and it's still anyone's guess what will happen to the books if any schools are revealed to be in possession of said books, but Krause reportedly compiled the list of books because he believes they violate House Bill 3979, the so-called "critical race theory law" which was designed to limit how race-related subjects are taught in public schools in Texas.
Some of the books under inquiry include bestsellers and award winners alike, from the 1967 Pulitzer Prize-winning novel The Confessions of Nat Turner by William Styron and Between the World and Me by Ta-Nehisi Coates.
At any rate, it all screams "dystopia" and "Fahrenheit 451" and the "collapse of civilization" to me and now some of the authors of the books on the list have reacted to the news.
Mikki Kendall's 2020 book Hood Feminism: Notes from the Women that a Movement Forgot is an intersectional feminist look at "race, class, sexual orientation, and ability." She tweeted, "y'all I am in great company, but also? This is a fight. I know how to do that….I'll write more books."
When Kalynn Bayron found out that her book Cinderella is Dead, a reimagining of the classic tale featuring a Black, gay protagonist, was on the list, she tweeted: "I'd like Matt Krause to know that nothing he does will keep my work out of the hands of young readers. Texas educators are, for the most part, amazing people and we work together to make sure the work gets to the kids who need it most."
Some authors laughed it off.
Steven Salvatore, author of Can't Take That Away, a novel about a genderqueer teen, joked that "we did it, Joe!" While Duchess Harris, who has four books about race and police violence in the U.S. on the list tweeted she is "so proud" with a laughing emoji.
We're curious to see how Krause's racist meltdown about books will actually play out. Is it more republican pearl-clutching about diversity or do we seriously need to worry about Texas schools banning books? Let's hope it's the former.