There's Going To Be A 3-Day Harry Potter Marathon Over Thanksgiving Weekend
by Christina Marfice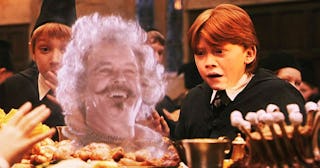 Warner Bros.
Cancel all your Thanksgiving weekend plans because every Harry Potter movie is airing over three glorious days
Can you even imagine anything better than eating yourself into a Thanksgiving food coma, belly full of turkey, potatoes, stuffing, and pie, and then settling into the couch, turning on the TV, and spending three entire days watching Harry Potter? Because I sure can't. That scenario is the stuff Thanksgiving dreams are made of.
And fam, not to alarm anyone, but this year, that dream can come true. This is not a drill — every, single Harry Potter movie that is currently available to air on TV (which means all of them except Fantastic Beasts 2) will be shown in a three-day marathon over Thanksgiving weekend, ensuring this will be the best Turkey Day since this happened last year.
You'll have to have access to the USA Network channel to watch them all, since that's where they're airing. Unfortunately, gone are the days of Harry Potter marathons on Freeform, ever since cable rights for all the films were signed over from Disney to NBCUniversal in 2017. Luckily, NBC has continued the tradition, airing the movies on its channels for the last few Thanksgivings.
Just think about it: You can stuff yourself, just like Harry and Co. do in the Great Hall for every meal. Maybe you can even add some festive extras to your Thanksgiving table, like treacle tarts, pumpkin juice, or butterbeer. If anything calls for shaking up the traditional Thanksgiving table, it's this. Thanksgiving 2019 is about to become Pottergiving, or Thanksharry, or something. It doesn't matter what you call it. What matters is that you give thanks for what really matters: Being able to spend three days eating and watching Harry Potter movies.
Here's the schedule for the marathon:
Thursday, Nov. 28:
9 a.m.: Fantastic Beasts & Where To Find Them
11:52 a.m.: Harry Potter and the Sorcerer's Stone
3:19 p.m.: Chamber of Secrets
7 p.m.: Prisoner of Azkaban
Friday, Nov. 29:
6:30 a.m.: Chamber of Secrets
10:11 a.m.: Prisoner of Azkaban
1:10 p.m.: Goblet of Fire
4:35 p.m.: Order of the Phoenix
7:35 p.m.: Half-Blood Prince
Saturday, Nov. 30:
10:30 a.m.: Order of the Phoenix
1:31 p.m.: Half-Blood Prince
4:48 p.m.: Deathly Hallows, Part 1
8:10 p.m.: Deathly Hallows, Part 2
Take note that several of the titles repeat on multiple days, which means you can see all of them while still interacting with your family a little bit. You also have time for things like eating and sleeping and maybe even a little Black Friday shopping, as long as you make it snappy. But the majority of Thanksgiving weekend can be spent in front of the TV with a ton of Harry Potter movies playing, just like the Pilgrims intended.