This Newly Released Children's Show Is Freaking Magical
by Rachel Garlinghouse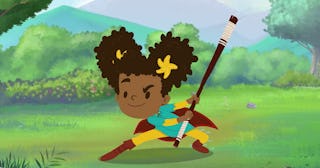 Hulu
Two dads. The daughter they adopted. A troll. And some seriously fun adventures. Welcome to Hulu's newly debuted children's show, The Bravest Knight.
The show features Nia, a brown-skinned ten-year-old girl and her parents, Daddy and Papa. Papa is a prince, and Daddy is a knight. Cedric, whom Nia calls Daddy, was a young pumpkin farmer who yearned to become the greatest knight. He grows up, marries Andrew, and then spends his days recounting his journey-to-knighthood adventures to his daughter.
Groundbreaking? Yep. But also–gasp–ordinary? You bet.
The star-studded cast includes T.R. Knight, most well-known for playing George O'Malley on Grey's Anatomy, as Cedric. Storm Reid, the lead actress in A Wrinkle in Time, plays the spunky Nia. Guest stars include RuPaul and Wanda Sykes. The diverse cast is representative of the characters.
Each episode, which lasts about ten to twelve minutes, leads young viewers through one of Cedric's adventures. He's accompanied by his best friend, a troll named Grunt. Together they encounter giants and witches, embark on knightly adventures, and learn important lessons. Cedric lovingly teaches his daughter about growing up through his whimsical storytelling.
Family is family, as we know, but despite it being 2019, The Bravest Knight is the first of its kind. Yes, we've seen a few children's shows, mostly aimed at teens, feature glimpses of same-sex relationships. But for younger audiences? The representation is seriously lacking.
Besides the apparently controversial and recent episode of PBS' show Arthur, an animated series aimed at preschoolers, where Mr. Ratburn married Patrick, children haven't seen LGBTQ couples or families in mainstream children's entertainment. Yet according to The Williams Institute, a think tank of UCLA's School of Law, there are 700,000 co-habitating same-sex couples, and 114,000 of them are raising children. Of those children, 21% were adopted.
I remember watching the revolutionary episode of Ellen when she revealed to the world that she was gay. Then a year later, Will & Grace debuted. Since those shows, most television series and movies have included at least one gay character or couple, though often they're stereotyped as flamboyant, sarcastic, and fashionable. Even adult shows and films have a long way to go when it comes to representing American families.
The Bravest Knight takes family a step further, introducing viewers to the normalcy of two dads creating a family through transracial adoption. I admit, I'm biased, as my own family was created by transracial adoption times four. Seeing an animated multiracial family gives me all the feels.
Not only are Daddy and Papa characters on the show, but Cedric is the main character. The knight and prince don't make a quiet, discreet appearance. They aren't the token gay friends of the main, heterosexual, macho male character. Likewise, Nia isn't the cool child-of-color sidekick to the heroic white protagonist. Instead, Nia, Daddy Cedric, and Papa prince are center stage.
The show not only doesn't shy away from putting the multiracial family at the forefront of the action, but creators are making sure the show's content is valuable to those who watch. Each episode embeds several takeaway lessons.
In episode five entitled Cedric & the Fairies, viewers are introduced to a male fairy named Lucy. One character states that Lucy is a girl's name. Lucy lovingly replies that names belong to people, not genders. HELL YEAH.
In another episode, Cedric & the Green Leaf, a young girl named Green Leaf uses her small size to her advantage when jousting with other knights-in-training. This episode, and the show as a whole, lacks violence; instead, it demonstrates how children can rely on their problem-solving skills and positive character traits when facing challenges.
And can we talk about how precious the relationship is between Cedric and Nia? Daddy commits his time and energy to pouring positivity and confidence into his daughter through quality time instead of a lecture.
Let's be real. Reading, much less telling our kids a story, can be the last thing we want to do in the midst of our busy lives and long days. (Though if you are the bedtime story reading type, the show is based on a children's book, The Bravest Knight Who Ever Lived.)
Cedric could spend his days doing kingdom tasks, but instead, he shows up for Nia, time and time again. And let's be real. It's no easy task to parent a tween.
Maybe the show isn't just for kids? Parents can learn a thing or two, as well. I was reminded of the importance of taking time to tell my children about my own childhood adventures. This included repeatedly "baptizing" my siblings in the swimming pool, writing and performing murder mystery plays with my cousins, and pranking my little brother.
Somehow the most ordinary moments of my childhood are downright magical for my kids. They beg me to repeat the story of when my cousin ran into the barn with her bike, breaking her arm. (Sorry, cos.) Or recount when my dad would get up early on Saturday mornings, pile us into the cab of his truck, and head to the grocery store to purchase rainbow sprinkled donuts.
In a society that values disengagement by burying our noses into our phones and busyness by over-scheduling our families, The Bravest Knight reminds us of what's important. Parents, myself included, need to take a chill pill, slow down, and smell the proverbial roses. Because the truth is, the time we have with our kids really does fly.
So make the popcorn and gather the fam around the television. Because The Bravest Knight is nurturing and imaginative. And we could all use more of that.
This article was originally published on