The First Trailer For 'The Craft' Reboot Is Here And We're READY
by Madison Vanderberg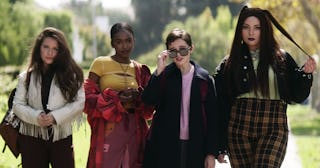 YouTube
Watch the first trailer for The Craft: Legacy which premieres on VOD at the end of October
Attention '90s babes, the first trailer for the reimagined version of The Craft is here! After hearing about the upcoming The Craft reboot for years, the trailer is finally here, and it's not so much a reboot as it is a sequel, following a new coven of high school witches in a modern-day setting. Much like its cult-fave predecessor, The Craft: Legacy follows four high school witches who delight in their newfound love for witchcraft until they "get more than they bargained for." Spooky.
The Craft: Legacy is produced by Blumhouse, aka the masters of the modern-day horror film, so although the new film does channel the high school angst of the '90s film, there's a few more jump scares and a just a hint of Gen Z glamour, i.e. pixie-dust shoots out of the girls' fingers when they cast spells.
The film stars new faces Cailee Spaeny, Gideon Adlon, Lovie Simone, and Zoey Luna as the four teen witches, and they are joined by veterans Michelle Monaghan and David Duchovny. The film is written and directed by actress-turned-director Zoe Lister-Jones and per Variety, the official synopsis is that the film follows "Cailee Spaeny as Hannah, who is forced to move and change schools when her mother (Michelle Monaghan) remarries. She gains three new brothers along with a new dad (David Duchovny). Hannah's presence at the new school awakens the local teenage coven (Lovie Simone, Gideon Adlon and Zoey Luna) that realizes they've found their fourth."
Though the original film was very '90s, complete with flannel and lots of teenage angst — the new film is perfectly Gen Z, though they peppered in some callbacks to the original like playing Light As A Feather (you can't do a witch movie without it) and uttering the iconic line "we are the weirdos, mister." Also, at one point, the film's new lead finds an image of Nancy Downs from the original film, which has us wondering if Fairuza Balk will reprise her role as Nancy?? Fingers crossed!
And since we're still in a pandemic, the film will not debut in theaters but will land on all VOD platforms on October 28, 2020, just in time for a socially distant Halloween movie night.