'The Mandalorian' Season 2 Trailer Is All About Baby Yoda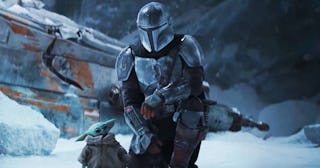 Star Wars/Youtube
The trailer for The Mandalorian Season 2 is out
The second season of Disney Plus' first-ever live-action Star Wars series The Mandalorian is returning to the streaming site next month and the trailer is finally here. Disney Plus announced earlier this month that the second season of The Mandalorian will hit the streamer next month on October 30, 2020, and after teasing us with a photo and a release date the full trailer is here, and hoo boy — not only is it good, the whole season is about The Child, aka, Baby Yoda.
Season 2 will follow the Mandalorian and his adorable sidekick — lovingly referred to as the Baby Yoda — as Mando searches the galaxy to find wherever it is that The Child came from and find the other Jedis he belongs with. Only problem is, The Mandalorian race isn't exactly friendly with the Jedis, or as Mando puts it: "You expect me to search the galaxy and deliver this creature to a race of enemy sorcerers?" Yup.
According to the trailer, this action-packed second season is going to include some knife fights, X-Wings, and drag racing, but for those of us that only tuned into the show for the Baby Yoda (hi, here, hello), there's plenty of cutesy content there as well like when Mando protects the baby and tells someone, "Wherever I go, he goes." Awwww.
I'm sure everyone is relieved to see that Baby Yoda is still in baby-form and the show didn't like, pick up five years later with Teen Yoda or something. Yeesh. Also, Entertainment Weekly got a sneak peek at a few images from the show and it looks like other last season faves are back as well.
Entertainment Weekly reported that production on Season 2 wrapped just days before the government shutdowns due to COVID-19 began. The second season of The Mandalorian will stream exclusively on Disney Plus on October 30, 2020.
This article was originally published on