The Time Vera Farmiga Lactated on George Clooney
by Scary Mommy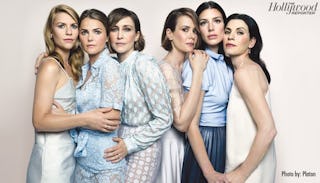 Anyone who has delivered a baby knows that your body is no longer your own and does some… rather interesting and unexpected things. (Third boob, anyone?)
While our hearts don't often bleed for Hollywood's rich and famous, a recent Hollywood Reporter roundtable consisting of Emmy nominated actresses Claire Danes, Keri Russell, Vera Farmiga, Sarah Paulson, Jessica Pare and Julianna Margulies reminded us that, sometimes, the beautiful people really are just like us.
As Danes and Russell dished about the awkwardness of acting in love scenes towards the end of pregnancy, (Russell: "Yeah. It's creepy when your belly's up against them. You're like, 'This is wrong.'"), Farmiga one upped them responding, "And post-pregnancy, too."
"At one point in Up in the Air, I'm lactating on George Clooney's chest during an intimate scene, and he grins and bears it!"
Margulies, Clooney's former love interest on ER could imagine the scene well. "He probably got his glass of vodka and …" (pantomimes holding a glass up to Farmiga's chest).
"White Russian?" Danes continued.
A man who doesn't freak out over a woman's breast milk solidifies our decades long crush on George. Cheers, Mr. Clooney!
This article was originally published on