Every 'Voice' Coach Has A Singer Moving Onto The Finale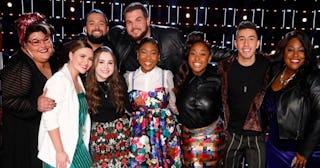 Instagram/The Voice
Four 'Voice' favs went home last night but the coaches are all still in it
Season 17 of The Voice has been a memorable one thus far. Not just because this season's performers have to be some of the best in the show's history but also because of some surprising former eliminations (here's looking at you, Myracle Holloway). But tonight's eliminations were a real heartbreak for fans because the floor was cut in half and it was painful to watch. At the same time, history was made in that all four coaches have someone moving onto the finale.
As host Carson Daly read the first name saved, it surprised zero percent of viewers — Katy Kadan. Her powerhouse vocals last night were unmatched by any of the other contestants (in my humble opinion) and she safely made her way through to the final four (and should already be on Broadway). Jake Hoot was the second contestant marked safe and we'll be seeing all 6′ 6″ of him next week.
Neither of the above was a big surprise to faithful watchers of the show. Ricky Durant was the third — and equally no surprise. He's rocked everything from "Valerie" to "River" (where he was a four-chair turn) to "Small Town," and has sounded like butter through each one. But it was the pick for the three singers to perform for America's vote that had many scratching their heads.
If you missed last night's performances, stop what you're doing immediately and watch them. The singers performed once as a duo and once individually and reminded viewers why they're still on the show. Per usual, Katie Kadan (Team Legend) rocked her rendition of "Lady Marmalade," originally sang by Patti LaBelle and later made famous to a new generation via Christina Aguilera, Lil Kim, Pink, and Mya for the hit movie Moulin Rouge.
Ricky Duran (Team Blake) and Will Breman (Team Legend) slayed the Outfield's "Your Love," leaving many viewers (including myself) wondering if they should be the duo to beat over Hello Sunday (Team Kelly), and the men's individual songs were just as solid. Rose Short (Team Gwen) shined bright like the diamond that she is, performing Foreigners "I Wanna Know What Love Is." (It's her. She is love.) There were less memorable performances by Kat Hammock (Team Blake), Marybeth Byrd (Team Legend), and Jake Hoot (don't hate me — "Desperado" saved him).
But enough about that. The bottom three singing for their spot in the final four were Hello Sunday, Kat Hammock, and Rose Short. That means Legend (and resident 2019 "Sexiest Man Alive") lost two-thirds of his team in under ten seconds, surprising many fans of the show. The bigger surprise was that Short was even in question, leaving it to America to save what has to be one of the best singers of the season.
Thankfully, they got it right and sent Short through to the finale which will air next week on Monday, December 16 and Tuesday, December 17. Each coach has a horse in the race now — the first time in the show's history. It's anyone's guess who will take home the title (but it better be Katy Kadan).