Ladies, You Can Officially Kiss Boob Sweat And Thigh Chafing Goodbye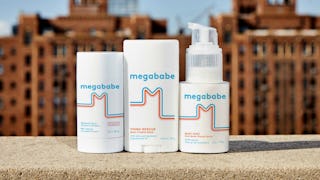 Megababe / Facebook
Ladies, it's summertime and you know what that means: 'Tis the season for boob sweat and thigh chafing. And we all want to enjoy those cute little dresses, shorts, and tank tops in the blazing hot weather without having our underboobs, cleavage, and inner-thigh areas get that annoying, raw rash.
I don't know about you, but I'll be damned if I am going to wear some bra liner under my brassiere to prevent my juicy peaches from gathering sweat. As much as we adore patting down our special places while out in public to prevent sweat stains spreading across our T-shirt like we are leaking milk (even though we haven't lactated in a decade) or having the tops of our thighs rub together after a sandcastle building contest (ouch), it seems it would be much easier (and far more comfortable) to take care of the problem before we head out the door.
Well, now you can say goodbye to your sweaty, soggy melons and the chafing of your luscious inner thighs, thanks to Kate Sturino, the woman behind the style blog The 12ish. Sturino created the blog in the spring of 2015 as a way to showcase fun fashion geared toward women who wear sizes 12–18. Her style is edgy and unique, and The 12ish has been featured in many publications including Glamour.
Like most of us, she's no stranger to thigh chafing and boob sweat, so when she couldn't find a product made especially for women that was all natural and didn't smell like a gym shoe, she did what any badass woman who wants something done would do: She came up with a great product line her damn self.
Megababe carries non-toxic products that provide unwanted sweaty areas of our body with a protective shield, so they easily glide back and forth instead of stick and rub together. This prevents that annoying rash, and that icky sticky feeling that results from perspiration in our "sun don't shine" areas. The best part of all? We can do this without having to wear extra clothing.
This woman is a genius.
Megababe's Thigh Rescue is an anti-chafing stick that stops your inner thighs from practically starting a fire just by walking to the local fro-yo shop. This product looks and works like a deodorant stick and is made with all-natural ingredients like aloe, grapeseed oil, lime oil, and pomegranate seed extract to form a base on your skin to stop friction without the sticky residue other products leave behind.
Also in the line is Bust Dust, which will be available mid-July. We all know our fun bags can produce some serious sweat, and now we can put an end to salty tits with this ultra-fine powder that is 100% natural and has ingredients like lavender and chamomile. And even better, it leaves our underboobs feeling softer than they were before.
Megababe will also have third product launching soon: Rosy Pits deodorant. Yes, please.
Sturino told InStyle she created products to help women of all sizes. "I have size 4 friends who are just as excited about this product as my size 18 friends because they chafe just as badly! Whenever I bring up thigh chafe, whether it's in a personal or professional setting, I always hear from other women who think they're alone in dealing with it. The truth is thigh chafe is just one of those annoying things that we deal with as women. I want to reduce the shame and stigma around something that so many of us deal with in a cute and fun way," she says.
So buy that cute mini-dress or fitted tank top and leave the sweat-soakers at home. Megababe is an easy, affordable, and comfortable way to get rid of unwanted sweat which leads to painful rashes and itching and ruins our fun.
Supporting a badass girl boss and waltzing comfortably through this sunny season? I'm all in.