10 Things To Do In Paris With Kids
by Jacki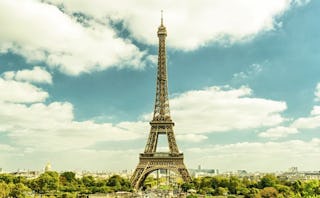 A family vacation to Paris? Oui, oui! But when you go anywhere with kids in Paris, it's key to remember that this is one of the most visited places in the world and places are often packed. A good rule of thumb for taking kids to events in Paris is to avoid museums on Wednesdays (French children have no school on Wednesdays) and during school vacations. Still, there's plenty in the City of Light that both you and your little ones will be fascinated by. Here are our recommendations for the best things to do in Paris with kids. Bon voyage!
Best Places to Stay
Well, you're going to need somewhere kid friendly to sleep while in Paris, and every Parisian getaway you've dreamed of is now at your fingertips. If you're looking to add to your hotel reward points (free hotel room for a return trip w out the kiddos?), the Moxy Bastille is full of urban charm. More boutique your style? Then you'll appreciate the luxury of the fabulous Le Dokhan's (there's a Louis Vuitton elevator!). And if eclectic style is your style, the 25Hours Terminus Nord is the place to stay (wait till you see the bikes they supply for rides around town).
If no hotel is kid-friendly enough for you, and you need your own house or apartment (mini kitchen? kids get their own bedroom?), Airbnb has some of our all-time favorite Paris options — from a luxury flat in Montmartre to an updated modern at Notre Dame to a duplex loft in the Marais (rhymes with hurray!).
How to Get Around
If you're staying in Paris, appreciate that this is a no-driving trip. Walk, walk, walk and when you just can't walk any more, the Metro is the way to go.
Best Experiences in Paris
In your former life, you probably enjoyed quiet days exploring the markets, but let's be realistic and accept that kids need things to do. Put down their tech devices (and yours) and plan a few special experiences that are unique to Paris. Everything from learning to make croissants (seriously!) to a Tour of Paris' Best Kept Secrets to Electric Scooter Tours to Cheese and Wine Tours around the city can be booked beforehand.
1. The Eiffel Tower (Tour Eiffel) – Seeing the Tour Eiffel is a must for anyone visiting the City of Lights and can be tackled one of two ways, depending on the ages of your children. For those of us who fail to plan ahead and buy tickets online via the website, wait in the shorter line to buy the cheaper stair tickets. Older kids will enjoy climbing the 600+ stairs to the top, but be sure to stop on the first level to see a short film on the history of the Eiffel Tower and pick up a copy of the interactive Follow Gus booklet which offers kids the opportunity to learn while climbing the steps. Parents can rest their feet and have a café while soaking in the views and letting the kids run around.
For those of you with kids under the ages of 6, skip the trip to the top. Instead, bring a blanket and enjoy a picnic on the Champ de Mars. Young kids can enjoy the views of the tower and when they get bored (which for my son is in 10 minutes or less), head over to the playground, ride the carousel, and of course, enjoy an ice cream cone, "les glaciers" in French.
2. The Cite des Science is really a one stop place for families with kids in Paris, especially on rainy or cold days. Within the Cites des Science is the Cite des Enfants, with two sections, one for children ages 2 to 7, and the second for kids 5 to 12 years old. Each area is packed full of amazing indoor activities that translate into fun no matter what language you speak. Parents, be advised that you should buy your tickets online via the website, or if in person, purchase for the next "time slot," which is for 1 hour and 45 minutes. Afterwards, be sure to hit up the free L'Aquarium in the basement. There are rotating exhibits within the Cite Des Science and you can also get tickets to see a movie in the Geode.
On warmer days, walk along the canal and cross over to the free playground that features zip lines and bouncing trampolines, alongside the more typical French equipment and sandboxes. There's also, yes, you guessed it, a carousel.
3. A walk on the Champs Elysees – Starting at the Arc de Triomphe, walk as far as you can make it along the Champs Elysees. Older kids will appreciate traveling the 284 stairs (or elevator ride) to the top of the Arc, which feature unobstructed views of the twelve streets that stem out from the Arc. From there, head down the Champs Elysees and be sure to stop at Laduree for one of their world-famous macaroons. Along the walk, there is the Disney store, Swatch, and plenty to keep Moms happy. If you need a bathroom break, and let's face it – who doesn't with kids in Paris, use the toilets in McDonald's, they're free and fairly clean.
4. The Tuileries and the Musee de l'Orangerie – Don't get me wrong, the Louvre is amazing… but it's often crowded and overwhelming to little ones. Instead, hit up the Musee de l'Organerie, home to Monet's famous water lilies. Rarely crowded and if you hit it up first thing in the morning, they'll let you take your stroller around and surprisingly enough, held my toddler's attention for far longer than I had imagined. Afterwards, stroll through the Tuileries, soaking in the beautiful garden, fountains, and statues. Enjoy an ice cream from Angelina and relax in one of the iron chairs while the kids burn off some steam.
5. For older kids in Paris, take advantage of the more macabre sights in Paris. The Catacombs, which are quarries that were eventually lined with the skeletons of bodies moved from their previous home, the Cemetery of the Innocents. Note: it's dark and NOT stroller friendly! In addition to the Catacombs, older kids might enjoy walking through one of the many cemeteries in Paris. Our favorite is the Cimetiere du Pere Lachaise, home to the final resting place of Oscar Wilde and Jim Morrison.
6. Notre Dame – Young kids won't appreciate Notre Dame but they will love it if you go on Sunday morning. Stop by Square Louis-Lepine for the Marche Aux Oiseau, or the bird market, that takes place there on Sunday mornings only. After that you can head to Notre Dame to see Sunday mass in full effect. (Since Notre Dame was closed, we suggest you ask the hotel concierge or check online to receive any details regarding viewings and visitation.)
7. The area around Sacre-Coeur is super-touristy but kids will love the vibe. You can either walk up the 270 steps to the top or take a ride on the little train. Once at the top, look out for peddlers selling name trains and an occasional marionette show. If you're looking to enjoy one of the best croissants in Paris, be sure to take a side trip to Gontran Cherrier, located at 22 Rue Caulaincourt in the 18th arrondissment.
8. The Jardins and playgrounds – Paris is full of them. Our favorites include the Jardin du Luxembourg, which has a fenced in, pay to use playground that is worth the cost, not to mention sailboat watching at the fountains, Parc Georges Brassen in the 15th arrondissment, Parc Monceau in the 8th, and Jardin des Plants in the 5th.
9. Take a bus tour with L'Open and be sure to do a Seine River cruise. It's okay to be a tourist, and do the touristy thing.
10. Bois de Boulonge – The Central Park (and then some) of Paris is the Bois de Boulogne and is home to a ton of kid-friendly things for families to do. Our favorite things to do include walking around the Parc de Bagatelle, which feels like a secret garden and isn't crowded…where peacocks and exotic birds roam free. Be sure to rent a rowboat and head out on the Lac Inferieur, fish, and ride bikes. Lastly, the Jardin d'Acclimatation, a paid-entry mini-amusement park and zoo are fun places to take kids. During the summer, kids in Paris can run through the splash pad to cool off.
Best Things To Pack For Paris
"Parisian chic" is the gold standard for fashion followers and bloggers. That really means that Parisians appreciate minimalist style (no bold colors or wild prints) and high-quality, uniform-style pieces that can be mixed and matched for multiple outfits. To prepare the essentials, think of it as building a capsule wardrobe. Start with a fitted tank top in multiple colors that can slip under blazers and sweaters. Then, add a cashmere sweater, which is perfect for unpredictable weather: you can also throw it over a sundress or tank. (If it gets too warm, tie it around your shoulders.) Next up is a simple sundress. This casual polka-dot dress is an easy daytime option; pair it with crisp pair of Veja sneakers (you'll spot these sneaks all over any big city). The point is to look pulled together, not dressed up (heels are not required).
Paris is the home of haute couture, but you don't need a Chanel bag to explore the city. Instead, a simple nylon tote, like the Le Pliage from French line Longchamp, checks all the boxes (durable, minimalist, classic, zips fully closed). Jeans are appropriate in every city for every season, so pack a pair or two for day-to-night ease, like this pair of wide-leg denim in a vintage wash. For evening, complete the look with an on-trend, wedge walking sandal and relaxed white button down shirt.
And don't forget the international adapter – you'll need a lot of juice to post those selfies from the Seine.
Got any other tips for navigating Paris with kids? Leave them in the comments!
Although we only recommend picks we really love, we may earn a commission on purchases made through links from our site.
This article was originally published on