T.I. Defends Taking His Daughter To Have Her Hymen Checked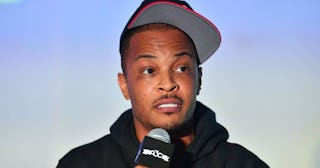 Prince Williams/Getty
T.I. defends his gross admission that he takes his daughter to have her hymen checked
Weeks after the fact, T.I. is ready to talk about those controversial (and, let's just be level here, infuriating) comments he made about his 18-year-old's annual visits to the gynecologist. But, in full disclosure, what he has to say probably won't make you feel any less disgusted by the entire debacle. Nevertheless, you're going to want to hear his and wife Tiny's follow-up, which they shared on Monday via Jada Pinkett Smith's Red Table Talk.
ICYMI, the rapper found himself facing down the full wrath of the internet in early November. The cause of the swift criticism? He revealed he accompanies his daughter Deyjah to her annual gynecologist visits to keep tabs on her virginity. That in and of itself would seemingly merit a hell no — full stop. But, if you can believe it, it gets worse.
During his visit to the Ladies Like Us podcast, the 39-year-old rapper proceeded to put his entire foot in his mouth. In fact, the foot was pretty much followed by his whole leg when he bragged about having Deyjah's doctor "check her hymen." He also admitted that he coerces both Deyjah and her doctor into allowing him access to her private medical information, saying, "He's like, 'You know, sir, I have to, in order to share information' — I'm like, 'Deyjah, they want you to sign this so we can share information. Is there anything you would not want me to know? See, Doc? Ain't no problem.'"
We'll give you a minute to recover from the skin-crawling ick factor of that before we continue.
So, the collective internet's head understandably exploded at the thought of T.I.'s alarmingly controlling, invasive, misogynistic and, just, gross behavior. From Gloria Steinem to Planned Parenthood, basically everyone and their sister unloaded on the rapper. Did he realize how problematic his comments were? Does he not fully grasp the science behind the hymen? Is he aware he is policing his teenage daughter's body and, as a result, stripping her of any bodily autonomy? And then talking about it publicly without her consent?! We can't.
Thanks to Pinkett Smith, T.I. got the chance to clarify his comments. Sadly, all they really did was convince us further he should stop talking about his daughter's hymen in public. Or private. Or ever. Maybe he should just take a vow of silence until he's had time to really process the gravitas of his gaffe.
Here's the thing, though: T.I. says he made his original comments in a "very joking manner." He supposedly started from a place of truth — he claims to have only policed his daughter's sexuality until she was, like, 15 or 16 — but he began to "embellish and exaggerate." So, you see, it wasn't his fault. People just took it "extremely literal" and "misconstrued and misconceived" his intentions." T.I. ultimately went on to say that this "false narrative" has been "sensationalized."
For instance, T.I. clarified he never said he was in the room with Deyjah and her doctor. Which, uh, we didn't actually think he was. But also, the fact of the matter is he still insisted on hearing about the results of her doctor's exam, which is a gross violation of her privacy and agency. But y'all, he says he was simply acting out of love and protection.
"To think that in the age or the time when our women — black women — are the most unprotected, unattended, disregarded women on the planet, I'm being criticized because I'm willing to go above and beyond to protect mine," he lamented to Pinkett Smith and her mother Adrienne Banfield-Jones. "And I'm talking about all of the slimy, grimy, chubby-fingered little boys who want to just come and defile and destroy the sanctity that I have," he continued before being cut off by Pinkett Smith and Banfield-Jones.
The rapper also admitted to a double standard in the way he views his daughter's sexuality and the way he views his son's. "If my son goes out and gets a girl pregnant, how is the household changed for those nine months?" he asked. "The household does not necessarily change for those nine months," he explained. "Whereas my daughter comes home, my household is changed immediately. So the stakes are higher."
In summation, T.I. mansplained sex education and deflected blame. He referred to the situation as "hymengate." He established that his views about sexuality are inherently sexist. And he used catchphrases like "false narrative" and "sensationalized" to give the response to his original comments a fake-news feel. But he also said he was "incredibly apologetic" to Deyjah, so it's okay, right?
Insert all the eyerolls here.