TikTok Will Be Banned From U.S. App Stores Beginning Sunday
by Christina Marfice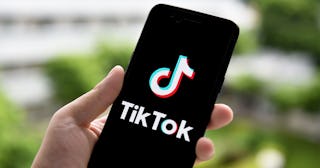 SOPA Images/Getty
In just a few days, people in the U.S. will no longer be able to download TikTok or WeChat, another popular Chinese app
2020 just keeps on coming. In addition to the constant barrage of other bad news we've all been facing this year, the U.S. Department of Commerce just made an announcement about TikTok, one of the most popular social media apps at the moment and the center of a mounting national security controversy: Beginning Sunday, U.S. users will be banned from downloading TikTok on all app stores.
WeChat, another popular Chinese app that works as a messaging platform, will also be banned beginning Sunday.
Donald Trump signed an executive order in August saying that the ban was coming if TikTok wasn't sold to an American company. Microsoft was in talks to buy the platform, but recently announced that the sale fell through. ByteDance, the company that owns TikTok, recently announced plans to move its headquarters to the U.S., but that clearly wasn't enough for Trump Administration officials, who say the Chinese Communist Party uses the app to collect personal data on Americans, and that it constitutes a risk to national security.
"Today's actions prove once again that President Trump will do everything in his power to guarantee our national security and protect Americans from the threats of the Chinese Communist Party," U.S. Department of Commerce Secretary Wilbur Ross said in a statement released Friday morning. "At the President's direction, we have taken significant action to combat China's malicious collection of American citizens' personal data, while promoting our national values, democratic rules-based norms, and aggressive enforcement of U.S. laws and regulations."
TikTok allows users to create short, sharable videos with music and voiceovers, and it's become an increasingly popular platform during quarantine. It became famous for dance challenges, and has exploded over the last year or so as more and more different types of content have gone viral.
Downloads of TikTok and WeChat in the app store will be banned beginning Sept. 20. Additionally, money transfers within the U.S. using WeChat will be banned beginning on the same date. The ban doesn't appear to affect people who have already downloaded TikTok, though they won't be able to update their apps. It also sounds as if users in the U.S. will continue to be able to post and view content on the app for now, but that could change at any time.