TikTok Becomes First Social Media Platform To Finally Ban MLMs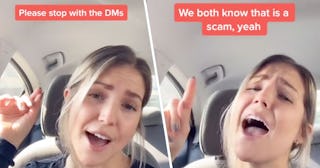 itscourtneymichelle/TikTok
The organization is now listing MLMs under 'Frauds and Scams'
In a bid to ban multilevel marketing forever, TikTok just announced updates to its community guidelines, which stated that any content related to MLMs, Ponzi, and other "get rich quick" schemes will be promptly removed from the site.
Under a section of policy prohibiting various types of "Frauds and Scams," the company became the first major social-media platform to announce MLMs would not be tolerated. The policy stated that "content that depicts or promotes Ponzi, multi-level marketing, or pyramid schemes" and "content that depicts or promotes investment schemes with promise of high returns, fixed betting, or any other types of scams" will now be banned.
If you've never heard of or been invited to take part in a MLM from someone you sat next to in Chemistry class in 11th grade, consider yourself lucky. The Tupperware parties of days gone by have turned into cult-like groups where you buy products such as Isagenix, Arbonne, Young Living, nu SKIN, Herbalife and others that encourage existing distributors to recruit new distributors who are paid a percentage of their recruits' sales.
Today, MLMs live online mostly through social media — you know the spammy invitations you get from people you've met once (or never) that show up as a page to "like" or a direct message from that friend of a friend who thought you'd be perfect to sell some random product.
The issue with many MLMs is trying to understand its legitimacy. If a company sells products primarily to consumers, it's likely a legit organization. However, if it only sells to members who must then recruit new members to buy their products, it's most likely an illegal pyramid scheme. The results have been misinformation about what a person can actually earn and other fraudulent activity associated with MLMs.
On TikTok specifically, users have been able to flex their MLM accomplishments and stages they've reached within a given company that allowed them to win a new car, receive boxes of new products, or earn bonuses for the number of affiliates they've signed up. Because of the public nature, these users can then drive strangers over to their other social media accounts, like Instagram and Facebook, to recruit them directly.
To help contain the spread of multilevel marketing schemes, TikTok has officially weighed in and promised to remove any content flagged by users, moderators, or its automated technology.
"We remove content and accounts that violate these guidelines, which we identify through a combination of technology that automatically flags content to our moderation team for review, proactive investigation, and reports we receive from our community," a TikTok spokesperson told The Atlantic.
In the days where people are home more and spend more time online, this is a big step in helping protect individuals from scams that could cost them a lot of time and money.