Tim Gunn: 'Designers Refuse To Make Clothes That Fit American Women'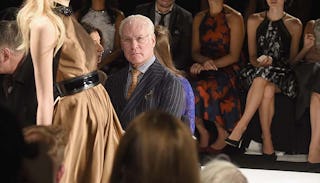 Image via Getty Images For Carmen Marc Valvo
Project Runway's Tim Gunn writes a scathing critique of the fashion industry
Ladies, if you're above a size 10, designers don't want your money.
Anyone who wears a size 12 or over and is hence referred to as "plus size" knows that when it comes to sizing of garments — and simply sizes available in stores — larger sizes are hard to come by. Not only is it harder to find your actual size if you are over a size 10, most designers simply don't make clothes that are meant to look good on women with curves.
"I love the American fashion industry, but it has a lot of problems, and one of them is the baffling way it has turned its back on plus-size women," Gunn writes in an Op-Ed for The Washington Post. "It's a puzzling conundrum. The average American woman now wears between a size 16 and a size 18, according to new research from Washington State University. There are 100 million plus-size women in America… But many designers — dripping with disdain, lacking imagination or simply too cowardly to take a risk — still refuse to make clothes for them."
[shareable_quote]"Have you shopped retail for size 14-plus clothing? Based on my experience shopping with plus-size women, it's a horribly insulting and demoralizing experience."[/shareable_quote]
There are so many different bodies. That many designers would simply refuse to consider the majority of them when making their clothes is frankly, silly. The average size American women are being failed by the fashion industry in a big way. Many designers max out at a size 12, leaving many of us with zero things to buy.
"Have you shopped retail for size 14-plus clothing? Based on my experience shopping with plus-size women, it's a horribly insulting and demoralizing experience," he writes. Why yes, Tim. Yes, I have. And you are correct. "Half the items make the body look larger, with features like ruching, box pleats and shoulder pads. Pastels and large-scale prints and crazy pattern-mixing abound, all guaranteed to make you look infantile or like a float in a parade," he adds. "Adding to this travesty is a major department-store chain that makes you walk under a marquee that reads "WOMAN." What does that even imply? That a "woman" is anyone larger than a 12, and everyone else is a girl? It's mind-boggling."
Yes, what the hell is with that? The "Woman" thing boggles the mind. Yet even though we all know this is ridiculous, it's not changing. There are more plus size retailers popping up, but can you imagine walking into Macy's and actually seeing the brands you love go up to sizes you can fit into? As a size 14 woman I can tell you that when designers do go up that high, all the sizes are constantly sold out. So are the XL's. Why? Because there is a market for those sizes that they simply refuse to fill. What the hell?
"This is now the shape of women in this nation, and designers need to wrap their minds around it. I profoundly believe that women of every size can look good. But they must be given choices. Separates — tops, bottoms — rather than single items like dresses or jumpsuits always work best for the purpose of fit," Gunn writes. "Larger women look great in clothes skimming the body, rather than hugging or cascading. There's an art to doing this. Designers, make it work."
Gunn mentions Eloquii in his post — a site I'd never even heard of. I spent a lot of time browsing it today because I felt like I was finally seeing designs that worked for my body (seriously, you've got to see these dresses). So maybe the idea isn't waiting for designers to catch up to us — maybe it's leaving them behind all together in favor of those who really want to dress us and make us look as fabulous as we are.
This article was originally published on