Superfan Mariah Carey Aces Tina Fey's 'Mean Girls' Quiz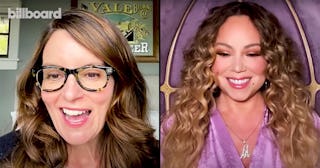 Billboard/Youtube
Mariah Carey proves she is the ultimate "Mean Girls" superfan acing a quiz administered by the movie's scribe and star Amy Poehler
If you're a huge Mariah Carey fan there are several things you already know about her including the fact that she loves butterflies, has won a zillion Grammy awards, is basically the reigning Queen of Christmas, and has an epic sense of humor. What you might now be aware of, however, is that Carey is a self-proclaimed Mean Girls superfan. And, because the superstar is basically the celebrity gift that keeps on giving during the coronavirus pandemic, she recently accepted the challenge of a virtual Mean Girls quiz, courtesy of actress, comedienne, and writer Tina Fey, who penned and starred in the iconic film.
As part of the latest installment of Billboard's Quizzed video series, Carey dressed to the nines, a la The Plastics, in a lavender getup paired with diamond hoops and a matching M initial necklace.
"Could you tell by anything that I'm wearing that I might have seen the movie once or twice? My necklace is an 'M' version of the 'R' that Regina and the 'C' that Cady have," Carey told Fay.
Of course she aced the quiz, passing both rounds with a perfect score."When the movie was first released, I watched it literally every night," she admits to Fey. "And then recently, my daughter — who's technically too young — she's obsessed with it."
During a heartfelt moment, she also revealed that she majorly identified with Lindsay Lohan's character, Cady, due to her own coming of age experiences.
"I didn't fit in at all being mixed race and moving 13, 14 times, and having a Black father and White mother and everybody was like, 'Who is this weirdo?' So, I was mean because I was just trying to fit in and that was the only way I could fit in," she explained. "I made it my mission to try and aspire to be like a Regina type. I did the best I could. I went to beauty school as well for 500 hours in 11th grade, so that I got some tips."
Carey did confess that she was majorly disappointed about one part of the movie — that The Plastics chose Jingle Bell Rock for their talent show routine. We don't blame her, considering her song is the number one holiday song of all-time, even topping the charts 20 years after its release.
"I'm a little bit disappointed they're not dancing to my song, but Jingle Bell Rock is a bit older than All I Want For Christmas Is You, so that's okay," she said.
The most exciting part of the segment, however, was when Fey told her that a new Mean Girls movie is in the works — and that she would be more than happy to use her holiday tune and even give her a cameo in the film.
"We're gonna make another movie of it, so if you want to license us that song for the movie and also be in the movie, just say nothing now and we'll consider it legally binding," Fey joked. "Just laugh and it'll be legally binding."
Lucky for us, Carey is totally into the idea. "I definitely want to be in it as well!" she responded, even offering up a totally "fetch" idea for a possible role. "Maybe I can be friends with [Mean Girls actress] Amy Poehler as, like, her other friend that wears sweatsuits."
Yes. Please.
This article was originally published on