TLC Is About To Ruin Your Holiday Season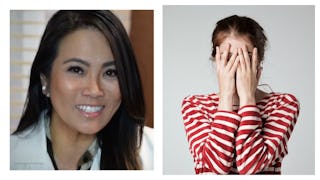 LEFT: www.youtube.com/user/DrSandraLee; RIGHT: Koldunov/Getty
I was pretty excited for the holiday viewing schedule when I heard Kurt Russell was playing Santa in The Christmas Chronicles, but once I discovered that Doctor Pimple Popper was throwing her hat in the holiday ring, I realized my holidays are going to be very complete.
I know, I know, most of you are reading this and wondering what Dr. Pimple Popper has to do with Christmas, and to be honest, I can't answer that question. That's like trying to explain why some folks watch Die Hard at Christmas time. Ultimately, it doesn't matter, because it's happening, and it's going to be disgustingly amazing.
Now if you are unfamiliar with Dr. Pimple Popper, or you haven't been keeping up with her rise to fame, here are a few details. Sandra Lee, M.D., aka Dr. Pimple Popper, is a board-certified dermatologist, skin cancer surgeon, and cosmetic surgeon who has a very popular YouTube channel with over a bazillion subscribers. She was a serious Internet craze a couple years ago, but now she's a certified celebrity with her own show on TLC, which, according to Cosmopolitan, had the network's highest-rated debut since 2013.
Wrap you head around that. I'm just thrilled to know I'm not alone in watching this dark internet sort of nastiness.
Now, if you're still reading, you must be interested, so here are the details: It will be an hour-long holiday special called The 12 Pops of Christmas. I assumed they'd call it Merry Cyst-mas, but I'm not a in a position to make that call (but seriously, it's a genius title, so if you work for TLC, have them send me a check, mmmkay?).
From what I can understand, the show will be a Christmas countdown of some sort, but with human body extractions. I assume this will be with at least 12 different patients, unless they've found some sort of a human advent calendar filled with puss instead of chocolate. It's anybody's guess.
"This is a busy time of year for Dr. Lee, as her patients are looking to remedy their skin issues before attending festive parties, family dinners and the endless photographs that are taken throughout each holiday season," a press release from the show reads. "With her office decorated in all the usual holiday trimmings, Dr. Lee and her elves will ensure a merry good time for all as they squeeze, pop and extract their way to better looking skin."
Like all Dr. Pimple Popper fans, I have questions. Most importantly, what holiday treats would pair well with this festive hour? Spice drops, éclairs, fruitcake, pumpkin pie, and anything with a cream center or a resemblance to puss would really bring the special to life. You can almost taste the fun, I'm sure.
Another big question: Should you watch alone or is this family viewing? Well… that depends on your family, I suppose. It might actually be inspirational for a young kid to become a dermatologist, and that's awesome, kind of like how the moon landing made some kids want to become an astronaut. But honestly, is the Dr. Pimple Popper special as important as the moon landing? Maybe, but probably not.
In my home, I know for a fact that I will be watching it alone, hiding from everyone (mostly my wife), so they won't judge me. But that's the thing about Dr. Pimple Popper and her videos, it's an acquired taste, no doubt about it. In my opinion, there's something so very calming about her work, almost like watching a lava lamp, and I am sure to fall asleep that night dancing on gumdrops and that aren't actually candy, but pimples.
Too much? Sorry.
I suppose this post can be taken as a recommendation or a warning. The 12 Pops of Christmas will premiere December 13 at 9:00PM ET/PT on TLC. If you are looking for something wholesome on TV after the kids go to bed, and the thought of eating your late night, cream-filled treat might be ruined by watching a cyst removal, you might want to mark the 9th with an giant X and stick to Netflix.
If, on the other hand, you're like me, and watching this sort of thing makes you excited, then by all means, put your jingle bell socks up on the coffee table, sip your hot cocoa, and enjoy.
This article was originally published on