Tom Ford's New Perfume Is (Literally) F*cking Fabulous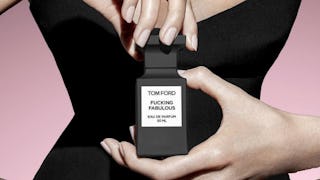 @tomford / Instagram
No really, the actual name is "Fucking Fabulous."
Which is fabulous because, what an edgy and amazing name, we can all appreciate that our favorite expletive is now being used in an official context. I mean, we are fucking fabulous after all. I haven't smelled it, but to be honest, I don't need to. It's called Fucking Fabulous, so spray me down already.
But, wait, hold the spritz.
Because unfortunately, most of us fucking fabulous ladies probably can't afford this damn perfume. Not even for a fancy treat or naughty splurge. The small bottle (5o ml) will run you $310, and the luxe atomizer will run you $495. And you have to pay for a mortgage, buy groceries for your kids, keep the lights on, and other nonsense like that.
God, being an adult is such bullshit sometimes.
The fragrance was launched during Ford's Spring/Summer 2018 Fashion Show on September 6 and will be available in select Tom Ford boutiques. And if you don't have one of his boutiques in your local shopping center, fret not. It will be available on Tomford.com so you can order it from the comfort of your gold-plated sofa.
But you better hurry the hell up — it so fucking fabulous there are only a few to go around. This fragrance isn't expected to last. That's right folks, this perfume is a limited edition. And for $500, you are going to want to have the empty bottle framed when you are done with it so you can say you were one of the lucky ones who got to swipe such a lavish fragrance on your wrist and supple neck region as you went about changing the damn world.
Inquiring minds want to know what exactly Fucking Fabulous smells like? Well, let me tell you: According to the designer, you are going to get a nice whiff Oriental Leather with hints of clary sage oil, lavender, vanilla, bitter almond, and amber. That doesn't really help me to envision what it would actually smell like, but I still want to bathe in it anyway.
I'm debating whether I should purchase myself a mini bottle or hit my essential oils cabinet — another place my money has gone to die — and try to make my own. Probably, the latter, because my fridge is bare and I'm overdue for a Costco run.