Tom Hanks Reads 'Nice Tweets' And The Internet Loves It
by Julie Scagell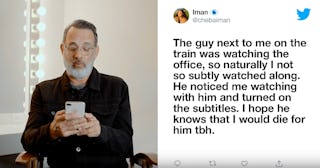 Twitter Movies/YouTube
Tom Hanks finds the sweetest tweets to share with the world
Jimmy Kimmel is used to having stars read mean tweets about themselves in a segment on his show, and while they are hysterical, sometimes it's nice to read something a bit more positive. Enter Tom Hanks, who teamed up with Twitter Movies, to find the nicest tweets he could and read them to viewers online.
In a pre-Thanksgiving video posted Wednesday, the Academy Award winner read stories of people overcoming adversity, sharing random acts of kindness, and it just wouldn't be the internet without an inspiring animal story or two thrown in for good measure.
Hanks began the segment with a tweet from a former McDonald's employee, who told Twitter that in the two and a half years he worked at the fast-food chain, he made sure to put 11 pieces of chicken nuggets in every ten-piece meal he would make. "That is a man who's not only being nice, but he's feeding the world a little bit better," Hanks said. "And [he's] bucking the corporate strategy. Bravo! That's a nice thing to do!"
The actor, who plays Fred Rogers in the recent hit A Beautiful Day in the Neighborhood, moved onto a tweet from a girl who said her dad bought her a cookie cake after her boyfriend broke up with her. The cake said, "You're still my #1 Love, Dad." He wins Dad Of The Year, forever. "I'm gonna start crying again," Hanks said, "because that's absolutely beautiful," then he added, "By the way, whoever broke up with you is a dope."
There was an adorable story about a neighbor taking time to take, then develop, a picture of a cat for someone which is the cutest thing I've ever heard, personally, but it was the next tweet about a dog named Bear who was abandoned as a puppy and went on to become a "koala detection dog" on Australia's east coast that made Hanks' day. "Bear is doing his best to locate any injured or misplaced koalas," Hanks read of the bears being displaced due to raging wildfires. "This is a Disney movie," Hanks added. "That must be made. The story of Bear: the koala detection dog. That's adorable. I like Bear."
All the tweets were read in Hanks' signature deep and calming voice which makes the entire two minutes and 37 seconds some of the best you'll spend on a Sunday. I would highly recommend not only watching this clip 17 times but finding some nice tweets of your own and sharing them with family and friends. It's a great reminder that with all the horrible news that comes out on a daily basis, there are still so many good things happening in the world.
This article was originally published on