'Top Chef' Honored The Late Jonathan Gold, Leaving Viewers In Tears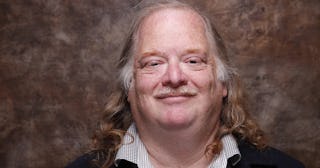 Jay L. Clendenin/Los Angeles Times via Getty Images
Plus, Kevin Gillespie explained exactly why he returned to 'Top Chef': to prove to himself that he's not dying
We're only two episodes into Season 17 of Top Chef, and the Emmy- and James Beard Award-winning show is already tugging on our heartstrings. This episode, they honored none other than the late Los Angeles Times restaurant critic Jonathan Gold. A Pulitzer Prize-winning author of more than one thousands published reviews since the '80s, Gold died at 57 on July 21, 2018 after a brief bout with pancreatic cancer.
"Jonathan Gold was the best restaurant critic in Los Angeles. He focused on small neighborhoods, particularly the neighborhood I grew up in, and I never thought that people from the west side would drive all the way to the east side to eat there. It was all because of Jonathan Gold," chef-testant Melissa King said in a talking head.
The tribute to Gold wasn't the only aspect of the show that had us gently wiping away a rogue tear, though. Chef Kevin Gillespie (Season 6: Las Vegas) explained exactly why he came back to Top Chef: to prove to himself that he's not dying.
"I didn't come back to go home early. My main reason I came back — and my main reason that I want to win — is to prove to myself that I'm not dying," Gillespie said, his voice breaking and his eyes welling up. Gillespie continued to explain that about a year and a half ago, he found out that he had a "giant tumor" on his kidney.
"Having to be rushed into surgery to have that removed and then spending the next year fighting to recover, it was a really dark and challenging time for me," Gillespie said. "It definitely changes your perspective. You begin to be incredibly appreciate of every single day, and I think it's made me a better person and a better chef."
In lieu of a Quickfire Challenge, the chef-testants were invited to explore some of Gold's favorite — and highly-reviewed — restaurants around Los Angeles, including Sichuan restaurant Chengdu Taste, Thai restaurant Jitlanda, Filipino restaurant Lasa, and more.
After the chef-testants split off into groups and dined at three different restaurants, they had to make a dish inspired by what they tasted, who they spoke to, and what they saw — "anything that brings out the passion [they] have for food," host Padma Lakshmi told the chefs on the beach immediately following the elimination of chef Joe Sasto.
The dish the chefs created was then served at Union Station to 200 of Gold's friends and family, including his wife Laurie Ochoa, arts and entertainment editor for the Los Angeles Times; actor, director, producer, and screenwriter Jon Favreau; and celebrated Korean American chef Roy Choi, among many others.
"He's my brother; he's family to me. From the moment I met him. It was as if we were connected spirits. I can't believe that he is gone," Choi told the Los Angeles Times in 2018.
At Judges' Table, Gillespie, Nini Nguyen (Season 16: Kentucky), and Brian Voltaggio (Season 6: Las Vegas) had the top three dishes. Gillespie made roasted pork, mushroom, and black currant terrine with "granny's" apple butter. Nguyen served "masa ball soup" with coconut-ginger chicken broth. And Voltaggio made short rib with charred eggplant puree, fermented radish, and butternut squash vinaigrette.
In the end, Gillespie won.
"It's a big deal to win because Jonathan Gold was so miraculously important. I know what that sense of gratitude feels like, and it's really special to be victorious in a challenge that you personally connect with as much as I do in this one," he said in a talking head.
At Judges' Table, Lakshmi asked Gillespie how he felt, to which he responded, "I'm overwhelmed."
"I've spent the last couple of years really sick worried that I wasn't going to get a chance to cook for people anymore, maybe not even have a chance to be around anymore," he continued. "So, when I started to get better, I needed to find a way to prove to myself that this journey wasn't over."
"We're very glad you're here," Lakshmi then said.
The bottom three dishes were Eric Adjepong's (Season 16: Kentucky) Ethiopian braised red cabbage and seared scallop with kitfo oil, Angelo Sosa's (Season 7: Washington D.C. and Season 8: All-Stars New York) crudo oft uno with chilled turmeric coconut broth and jicama, and Stephanie's grilled naan with curried peas, crispy lamb, carrot relish, and cheese.
Unfortunately, Sosa's crudo and coconut broth didn't make the cut.
"The sauce was so sweet, it was like dessert. It really overwhelmed everything," said head judge Tom Colicchio. "The tuna was lost."
"I'm sorry, but this tuna died in vain," added guest judge and food writer Ruth Reichl. "It was just a piece of flesh in a sweet broth."
"I knew it was sweet, but I didn't think it was overly sweet," Sosa said in a talking head. "I thought it was balanced, but I respect the judges. My son, he's special needs and has gone through many struggles, but these circumstances don't define him — and this doesn't define me."
Scary Mommy caught up with Sosa to ask him a few questions about his time spent on Top Chef this season. Take a look below.
Scary Mommy: Were you surprised by your elimination?
Sosa: Yes, I don't think anyone wants to hear they've been eliminated. Though, to be invited back to Top Chef for the third time to be among elite chefs was such an honor.
SM: How would you compare this season to your previous season on the show?
Sosa: Short…
SM: What did you do differently this time around?
Sosa: My goal was to enjoy the process and the experience and not to put so much pressure on myself.
SM: Who did you consider your biggest competition this season and why?
Sosa: I didn't really look at them as competitors, but more as teachers who were going to push me to grow as a chef.
SM: What was the biggest challenge for you this season?
Sosa: Adapting to the schedule was tough. We had really long days and a lot of waiting around and little sleep.
SM: Overall, what was it like returning to Top Chef? How would you describe your time on the show this season?
Sosa: It was an amazing experience; all the chefs are inspiring to be around. I would describe my time on the show as fruitful.
SM: What's next for you?
Sosa: Eight hours of sleep and a relaxing vacation.
SM: Is there anything else you'd like to add?
Sosa: I loved every minute. My preparation for the show was in intense, and it reinvigorated my love for cooking. It was a blessing to be invited back, and I love getting to see how I have grown as a person.
Top Chef airs Thursdays at 10/9c on Bravo.
This article was originally published on