Trader Joe's $4 Organic Rosé Is Our Summer Dream Come True
by Thea Glassman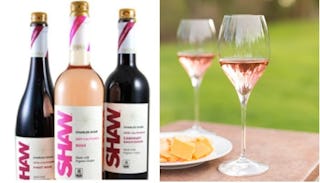 Image via Trader Joe's/Jennifer McCallum/Getty Images
Trader Joe's is selling $4 rosé. No, this is definitely not a drill
Are you back from the long weekend and feeling all the usual symptoms of crankiness, pure exhaustion, and generally wishing that you were still lounging peacefully under the covers? Well, I have some excellent news to pull you out of that back-to-the-office funk. Trader Joe's is now selling bottles of $4 organic rosé. Yup, 4-freaking-dollars. Life just got so, so good again.
Here's everything you need to know. The supermarket released a new rosé, which retails at $3.99 and is totally organic (to be completely honest I don't understand the benefits of wine being organic but it sounds very fancy and good). It's part of the Charles Shaw wine line, and comes complete with 750mL bottles, a resealable twist-off cork, and — praise the lord — the packaging definitely doesn't give away the very low price tag. So, yes, that means that you can bring this wine to plenty of parties and no one will know that you only dropped a couple of bucks.
If rosé isn't your thing, then you can also buy Charles Shaw's Cabernet Sauvignon or Pinot Noir for the same price. Though, the rosé admittedly wins it all because it literally looks like summertime in a glass.
So pink. So light. So refreshing looking. This might be a drink-straight-from-the-bottle situation. I mean, it was $4…we don't have to put on any airs here.
While we're on the topic – it turns out that you can buy a variety of insanely cheap alcohol from Trader Joe's. Like helloooo boxed rosé for $12.99. That's 20 glasses of wine crammed in there. Things are going to get real this summer.
And yup, you can buy wine in a can for $2.99. Hallelujah, and here comes days at the pool with your kids that won't suck all the life out of you.
Whichever option you choose, hopefully this summer ends up being your booziest, most on-budget one yet.
This article was originally published on