The Worry I Carry For My Transgender Daughter As She Starts School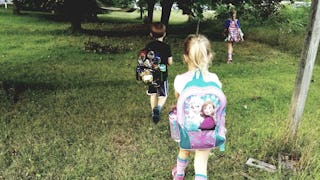 Photo via Amber Leventry
My kids went back to school today.
My oldest daughter was up at 6:15 a.m., excited to get back to the classroom, her friends, and her love of learning. My twins, my son and youngest daughter, who happens to be transgender, were a bit more reluctant but ready to start kindergarten. They have been in preschool for the last two years, so morning routines and being left in the care of someone else is not new. The school they are in now isn't really new either because they have been there with their big sister. They know the playground well. They already know the principal and some of the teachers.
I know them all too. I know the faculty and staff. I know the kids at that school. I know the parents. I have a very intimate relationship with my kids' school. I am not a helicopter parent (not usually, at least) and I am not on the PTO (sorry, I can't) nor am I involved in all of the volunteer opportunities (just some of them). I have made myself a part of my kids' school because I am an advocate. My kids have two moms, one who is non-binary. One of my kids, Ryan, is transgender. My family is different. I recognize this. Others do too.
But for the last year—literally a full year—I have had the honor and blessing to work with our school's principal on how to make the school an accepting, affirming, LGBTQ curriculum rich and diversified place for all kids.
Two days ago, the kindergarten families were invited to the yearly back-to-school ice cream social. They met their teachers, saw their classrooms, and walked the school. I had my oldest with me too, and she asked to sneak into her new classroom. I left my twins on the playground and we found her new 2nd grade class. As she found her seat and traced the fish tank with her finger, I saw the pile of books on her teacher's desk. The top one was I Am Jazz, and the handful underneath were all LGBTQ inclusive or themed books.
I was overwhelmed. Not just because I had sent a list of books I wanted in each classroom, and there they were. But because I was heard. Each teacher was given a budget to diversify the books in their classroom. My family is being seen. Every classroom in my kids' school is doing what they can to be sure every kid in that school feels included; the queer ones too. My transgender daughter. My two-mom kids. We are being normalized by existing in spaces that celebrate us for who we are—our labels, our qualities, our personalities.
I had very different reactions after saying goodbye to each of my kids this morning.
My oldest was ready. I was ready. We hugged, and I let go.
My son was ready, but nervous and a little shy. I was ready and nervous for him. We hugged, and I let go.
My daughter, my transgender daughter, was ready but guarded. I could feel her taking in her surroundings and all of the new people she will get to know well over the next few weeks. This sizing up she does is part of her personality but also part of wondering who she can trust.
I was ready, but guarded too. I looked around and wondered who in this space would challenge us. Who will make existing tough? Who will only see our differences? And judge us harshly because of them?
I hugged Ryan, and I let go. I had to. I can't be by her side through every second of her day and her life. I don't want to be either. She has friends to make, lessons to learn, and battles to fight on her own. I have done the work and will continue to do the work that provides soft landing places when she falls. But as I left her in her classroom, I felt cautiously optimistic.
She will be fine. I will be fine. But it will never be lost on me that I have a transgender kid now in the public school system. We continue to be the first, sometimes the only, and the standard set for those who come behind us. I feel supported. I know she is supported, but I would be naïve to know support and love will be the only things that come our way.
While I do not have a sense of fear, I will keep my guard up. And while I only expect positive reactions, I will keep anticipating every possible scenario for my daughter and our family, the hurtful ones too. I have to do this.
I will use my emotional scythe to carve our path so that my kid can learn to let her guard down. She deserves to live a life of open heartedness. Ryan deserves to have faith in humanity.
All of my kids—all kids—deserve to have this faith and trust in the people around them. We should all be able to walk around with the assumption that everyone is an ally.
And you know what? Humanity deserves to see me, my kids, and all LGBTQ people through the lens of acceptance. The view is pretty fucking beautiful.
This article was originally published on