Travis Scott Will Pay Funeral Costs For Those Killed At Astroworld
by Christina Marfice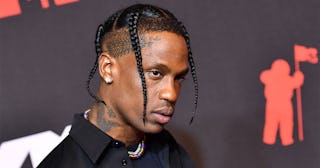 ANGELA WEISS/Getty
Travis Scott has pledged to pay for funeral services for all 8 people killed during his Astroworld set, as well as therapy for those in the crowd
Days after a crowd surge at his Astroworld Festival set turned deadly, Travis Scott has pledged to pay for all funeral costs for the eight fans who were killed in the tragedy. He's also partnering with an online therapy provider to offer free support and "further aid" to anyone who was in the crowd that night.
The 30-year-old rapper has partnered with BetterHelp, which will provide free one-on-one therapy and "other mental health services" to anyone who was in the crowd at Astroworld, according to a press release.
"These are the first of many steps Travis plans on taking as a part of his personal vow to assist those affected throughout their grieving and recovery process," a release from Scott's team said.
The crowd surge happened at around 9 p.m. local time in Houston. As Scott performed onstage at the Astroworld Festival, the crowd became frenzied and rushed toward the stage. In the process, people were trapped and trampled, and many struggled to breathe in the crush of bodies. Those who were killed ranged in age from 14 to 27. Twenty-five other concertgoers were hospitalized, and hundreds more were injured. Some of those hospitalized are kids under age 18.
As of Monday, Scott and the festival's promoter, Live Nation, are facing more than a dozen lawsuits from people in the crowd, including some who were injured. Videos from Astroworld show him continuing to sing and encourage the crowd, even as bodies were carried out and medics performed CPR near the stage. Other videos show members of the incredibly rowdy crowd jumping on top of emergency vehicles, preventing them from moving toward concertgoers who were injured and needed help.
There has also been a criminal investigation opened by local officials, though so far, no one has been arrested or charged.
Scott has been widely criticized for failing to stop the show as fans in the crowd screamed for help. He's known for having high-energy concerts where he encourages his fans to "rage." Past Travis Scott shows have had a reputation for violence and resulted in injuries, but not deaths.
In addition to paying for funeral costs and access to therapy, Scott has refunded the ticket prices of everyone who was in attendance at Astroworld. He has also canceled a Las Vegas performance that was scheduled for later this week.