Trump: 'It's A Very Scary Time For Young Men In America'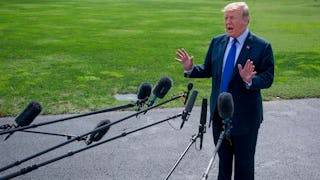 Image via JIM WATSON/AFP/Getty Images
As women share their horrific stories of being sexually assaulted, Trump wants to know — what about the men?
Donald Trump's been on a victim-blaming, woman-hating spree in recent days, between his attempts to discredit the women accusing his Supreme Court nominee of sexual assault and his totally unprovoked attack on a female reporter yesterday.
He continued his streak today by speaking out about his concerns for the menz — that's right, in this post-#MeToo era with women stepping forward to bravely share stories of being sexually assaulted, Trump's big worry is how much this might hurt men.
Wait, what? The men? Women are telling horrific stories of being violated, and made to feel like a shell of their former selves, and he's worried about the men?
Straight from the horse's mouth.
"It is a very scary time for young men in America, where you can be guilty of something you may not be guilty of," he told the assembled press at the White House before boarding Marine One. "This is a very, very — this is a very difficult time. What's happening here has much more to do than even the appointment of a Supreme Court justice."
This is obviously something he's been ruminating on for some time. "You could be somebody that was perfect your entire life and somebody could accuse you of something," he added. "That's one of the very, very bad things that's taking place right now."
Huh. And here I thought all the women being sexually assaulted was one of the very, very bad things that's taking place right now — and has taken place for literally all of time immemorial. Silly me and my lady brain.
Clearly, this has been a hot topic around the Trump family dinner table, as Don Jr. made similar remarks during a recent interview with The Daily Mail. "I mean, right now, I'd say my sons," he said when asked if he's more afraid for his sons or daughters in the wake of the Kavanaugh allegations. "I've got boys, and I've got girls. And when I see what's going on right now, it's scary."
It would be hard to take such an asinine and offensive claim seriously from anyone — but from Trump in particular, this is pretty infuriating. Remember that this is the man who called for a group of five teen boys to be executed after they were falsely accused of raping a woman in Central Park back in 1989. A scary time for young men, indeed.
Twitter, obviously, had a lot of thoughts.
Then, Richard Marx with the mic drop.
As Trump was making his way out, White House correspondent Hunter Walker asked the president if he had a message for young women. Naturally, his reply was smug and insincere. "Women are doing great," he said dismissively.
This is where we're at, America. Women are courageously sharing stories of being violated in the worst possible way, and our president is sputtering about how bad this is for men.
This is a scary time — for the entire country.
This article was originally published on