The Mashup Of 'Truth Hurts' And Disney's 'The Aristocats' Is Pure Happiness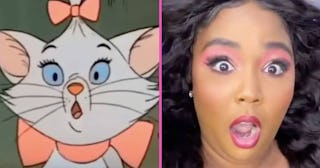 Lizzo/Instagram
This may be the best version of 'Truth Hurts' we've ever seen
If you're a fan of Lizzo (and really, who isn't?), you've likely played her songs on repeat belting out every single word at the top of your lungs, much to the embarrassment of your kids. One self-proclaimed "Lizzbian" took his love of Lizzo up a notch and we're all about to have a better day because of it.
Superfan Brendan Carey decided to take Lizzo's #1 Billboard hit "Truth Hurts" and combine it with an iconic Disney scene from the 1970 film, The Aristocats. He posted it to his Instagram page with the caption, "it me… ow. Meow That's What I Call Mewsic." Sure, it's a mashup no one asked for, but once you watch it, you'll never look at the classic film the same way again.
The clip shows cat siblings Berlioz and Marie in the original film arguing as siblings do. When mom, Duchess, comes in to break things up, she asks them to play her a song. She likely couldn't have guessed that almost 50 years later "bad bitch" would be coming out of her little darlings' mouths (though she does wear a gold, jeweled collar studded with diamonds so who knows).
The siblings begin singing their feline heart's out and playing the piano, all in perfect timing to "Truth Hurts," which begins playing perfectly synched to her beginning lyrics, "Why men great 'til they gotta be great?" Obviously, things just keep getting better from there.
The original version — which features the tune "Scales & Arpeggios" — is fabulous in its own right, but Lizzo and her powerful lyrics take things to a whole other level, and it's clear the cats (and their mom) are into it. It's anyone's guess how long it took Carey to cut this whole thing but we are forever indebted to him for it.
The video even captured the attention of the queen herself, who saw the mashup and decided it was too good not to share with the world. She posted the video to her Instagram page with the caption, "THIS IS BIG PUSSY ENERGY," and it's already been viewed over two million times.
Lizzo is currently on the road again on her sold out "Cuz I Love You Too Tour," the second leg of her international "Cuz I Love You Tour," which will wrap up in San Francisco at the Bill Graham Civic Auditorium on October 28th. Along the way, she's managed to use her magic for good. Earlier this week, she performed in Washington D.C. brought a bunch of rescue pups from a local rescue onstage, getting them all adopted (of course).
Everything she touches turns to gold.
What's even better is the singer preaches a message about loving yourself in a world that a lot of times makes it hard to feel so. Though she self-admittedly struggles with anxiety about the same things that get us all down, her lyrics and voice show us that we're all in it together and we deserve every bit of happiness that comes our way.
Today that comes in the form of an Aristocats and Lizzo mash-up. Tomorrow — the possibilities are endless.
This article was originally published on