14 Things Anyone Trying to Get Pregnant Can Relate To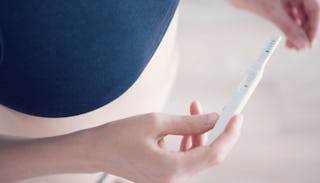 ilkafranz_com / iStock
Shortly after getting married, my husband and I decided to grow our family and hoped to have a baby. I was the first of my friends to venture into parenthood, and admittedly, I didn't have much of an understanding of the whole process.
Yes, I got the process, but I had no idea the struggles we could face when trying to get pregnant. I thought that it was simple. You know, you did the deed and you got pregnant—that's what I was led to believe in my school's health class at least.
But for my husband and me, trying to conceive was a lot more complicated and took far longer than either of us expected. It's hard to comprehend the toll that months negative pregnancy tests can have on your relationship and self-esteem.
Related: What Does An Obstetrician Do? So Much More Than You Think
Being able to vent frustrations, brainstorm ideas, and just laugh at the weirdness that is trying to get pregnant was key to preserving my sanity. Here are 14 things you'll totally relate to if you've been trying to conceive for any length of time:
1. You speak in acronyms.
Your DH needs to get home ASAP, so you can BD while you have EWCM and your cervix is HFO. Then, you'll be stuck in the TWW and count the seconds to POAS when you're 13 DPO and pray for a BFP.
2. You've become an expert in cervical fluid.
Most people have no idea such a thing exists, but you've become more knowledgeable than you ever thought necessary.
3. You're willing to try anything.
Yes, you've used egg whites when your EWCM wasn't stringy enough. What of it?
4. Except you're so over everyone else's advice.
Oh, that's nice that your sister's best friend's little cousin got pregnant that way. Not hearing it.
5. You're totally aware of your cervix now.
It's like you can feel it going high, soft, and opening when you're stuck at a work meeting.
6. Your life is divided.
Everything is scheduled and planned as if the calendar is split in two: pre-ovulation and the two-week wait. You hold off on anything that you think could be harmful (even a cup of coffee), only enjoying these things when you have your period and never after you've ovulated.
7. Getting in the mood when you're so not.
There is so much that can contribute to not feeling like having sex, and stress is one factor that turns the drive down. You know what's also a libido killer? Stress from trying to get pregnant, but you've developed tricks to get in the mood when you're not—often resorting to the "quickie" technique.
8. You celebrate every temperature spike.
"Do you see the triphasic pattern on this thing!?"
9. You buy in bulk.
You know exactly where to find deals on bulk ovulation test strips and pregnancy tests. If they offered a subscription to get you what you need every month, you'd be on it.
10. Every small thing is a sign.
You have the hiccups…you never get the hiccups. Is that a pregnancy symptom? (Google it.)
11. Every period feels like a failure.
Every month it hurts more and more. Why won't my body work like it's supposed to?
12. Pregnancy announcements hurt.
When you're struggling to get pregnant—or it doesn't happen in the timeline you want it to—hearing other people are expecting can be rough and even bring you to instant tears.
13. You start looking at all your options.
Not only are you frantically researching tips and tricks to get pregnant, you start looking at IUI, IVF, fertility testing, and adoption.
14. Your tribe is life-saving.
Having a tribe of people—your support group—is life-saving when you're stuck in the TTC cycle. You need someone to share those big moments (high-five for a clear progesterone surge) and to lend an ear so you can safely vent (boo to a short LF).
No couple enjoys the entire process of trying to conceive, and for some, the wait can be unbearable and painful. Sometimes, getting through the hard times means being able to laugh and see the bright side for a moment—even if the silver lining is that you've gotten to know your body more intimately than ever before.
This article was originally published on