Double, Double, Twice The Trouble! 17 Adorable Twin Halloween Costumes
by Team Scary Mommy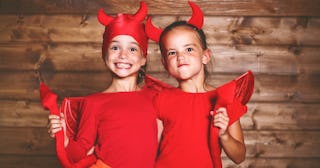 evgenyatamanenko/Getty Images
Maybe it's because of all the Sister, Sister we've been watching since it landed on Netflix, but we can't but think about what it would be like to have a twin. There would be challenges, sure, but just think of the scary pranks! We also love the fact that twins have a built-in best friend for life. And then it occurred to us that whether or not we have a biological twin, Halloween is the perfect opportunity to at least pretend as if you do by dressing up in matching costumes with your best friend. With a little imagination, you can turn nearly any beloved pop culture moment into a costume that's double the trouble.
So, don't let the fact that you don't have a real-life twin stop you from trying out one of these costumes this year. Halloween is a hilarious time, making it an ideal opportunity to get silly and creative. With that said, here are some ideas for adorable twin Halloween costumes that can work for everyone from babies, to college students, to grown-up moms.
Twin Halloween Costumes That Are Double the Fun
1. Ketchup and Mustard
The iconic condiment duo is the perfect twin Halloween costume at any age. Just have one person dress in all red, and the other in all yellow, and then make some sort of sign indicating what you are. Or buy an already-made version.
2. Venus and Serena Williams
Because they're not twins, it really doesn't matter if you and your twin look that much alike. Look for tennis-inspired outfits and scour the garage for an old tennis racket, and you're all set.
3. The Tortoise and the Hare
Have competitive twins? Then dressing them up as the tortoise and the hare is the clear choice. Make or purchase turtle and rabbit costumes. And if you have little ones who need to burn off excess candy energy, having them compete in some sort of race (safely, of course) may not be the worst idea.
4. Salt and Pepper
Have one person dress all in white, and the other all in black. Slap on an "S" or "P" and you're good to go. Bonus points for nods to Salt-N-Pepa.
5. Thing 1 and Thing 2
Unless you have curly blue wigs at home already (in which case, can we visit?), you're going to have to purchase at least parts of the Thing 1 and Thing 2 costumes. Other than that, wear all red, and make DIY "Thing 1" and "Thing 2" signs, or just buy the whole thing as a bundle.
https://www.tiktok.com/@addiandally/video/6995229666831371525?is_from_webapp=1&sender_device=pc&web_id7015579488039224837
6. Peas and Carrots
This one is definitely cutest on younger twins/BFFs, but no one is stopping a grown person from dressing up like a vegetable. This is another occasion where you can go the DIY or store-bought route.
7. Campfire and S'mores
Perfect for twins or best friends, the classic duo of a campfire and s'mores is a great costume for two people. This one's relatively easy to make yourself, and here's a tutorial to walk you through the process.
8. Pool Floats
Re-inflate your favorite pool toys and repurpose them as a Halloween costume. Find ones that can fit around your waist, and then coordinate the rest of your outfit to match.
9. Dancing Emoji
Does anyone actually know what the emoji featuring two girls/women getting ready to do a dance routine actually means? It doesn't really matter, because it's a super easy and fun costume.
10. Deviled Eggs
One person dresses as an egg, and the other as a devil. And if you and your twin or friend get separated, you'll at least have a costume that makes sense on its own.
11. M&Ms
Short on time, energy, and/or creativity? Given the number of onesies and T-shirts out there featuring M&Ms, you should be able to put this costume together with little effort but still look like you tried.
12. Russell and Kevin From Up
Let's be real: Disney-Pixar's Up will always be one of the best animated movies ever made. You could actually go with a few different combo choices here — Russell and Dug, Russell and Carl, Dug and Kevin — but we're partial to Russell and Kevin together.
13. Bran Stark and the Three-Eyed Raven
Honestly, y'all, this is a stroke of pure genius. If any Game of Thrones fans out there are looking for clever twin costume ideas, well, you just found the winner: Bran Stark and the three-eyed raven.
14. Twinkies
This costume is sweet in every sense of the word. Bonus: When else are you going to have an excuse to tote around a platter full of Twinkies and hand them out? You'll be the most popular mom and kiddos at every Halloween party you attend.
15. Mario and Luigi
It doesn't matter how much time passes; Mario and Luigi never get old! Plus, this is a great costume option for twins still in carriers, strollers, etc. Just decorate it like a Mario Kart, of course.
16. Rain and a Rainbow
You can't have a rainbow without a little rain! Seriously, y'all, how sweet are these coordinating costumes? And, as you can probably tell, they are incredibly easy to DIY. Double score!
17. Fear Street Characters
You could go as Ziggy and Cindy. Or Sam and Deena. Maybe even two killer Ruby Lanes. Really, there are so many incredible characters in this Netflix trilogy, you'd be hard-pressed not to find a stellar twin setup.
This article was originally published on