Twitter Finally Bans Trump Permanently
by Kristine Cannon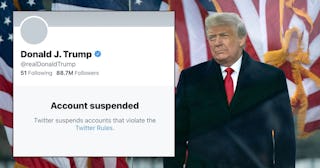 Getty/Twitter
It's about damn time
In a move that's elicited a collective sigh across the country, Twitter has finally permanently suspended President Donald Trump. According to tweets posted on Friday by Twitter Safety, "after close review of recent Tweets from the @realDonaldTrump account and the context around them, we have permanently suspended the account due to the risk of further incitement of violence."
Twitter Safety continues to write that "in the context of horrific events this week," they have "made it clear on Wednesday that additional violations of the Twitter Rules would potentially result in this very course of action" — linking to Twitter's Violent Threats Policy.
"Our public interest framework exists to enable the public to hear from elected officials and world leaders directly," Twitter Safety continues. "It is built on a principle that the people have a right to hold power to account in the open."
"However, we made it clear going back years that these accounts are not above our rules and cannot use Twitter to incite violence. We will continue to be transparent around our policies and their enforcement."
Since, Twitter has been lit. Many immediately began celebrating:
While others asked the obvious:
And urged for an even bigger move:
The president's account was initially banned for 12 hours on Jan. 6 due to "severe violations of our Civic Integrity policy," NBC News reports. Trump had used the platform to not only condemn Vice President Mike Pence as his supporters stormed the Capitol, but also praise his supporters as "great American patriots." And finally, after years of using the social media site to push lies and other dangerous rhetoric, Twitter has finally pulled the plug.
According to The Washington Post and NBC News, roughly 350 Twitter employees signed a letter urging Twitter CEO Jack Dorsey to ban the president for using the platform to incite violence in the wake of the Capitol siege.
"Despite our efforts to serve the public conversation, as Trump's megaphone, we helped fuel the deadly events of January 6th," the employees wrote in the letter. "We request an investigation into how our public policy decisions led to the amplification of serious anti-democratic threats. We must learn from our mistakes in order to avoid causing future harm.
"We play an unprecedented role in civil society and the world's eyes are upon us. Our decisions this week will cement our place in history, for better or worse."
Buh-bye, Trump. We won't miss you.
This article was originally published on