UGG Makes Fluffy Summer Sandals For Moms Who DGAF
by Thea Glassman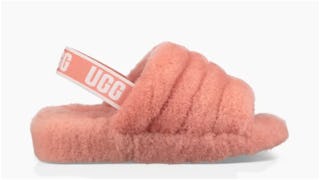 Image via UGG
UGG + fluffy sandals = a cozy dream come true
Summer has finally, finally arrived and with it comes extreme fatigue, so much heat, and all the crankiness. If you're currently wondering how you can possibly make it through one more humid morning of Little League baseball games/summer camp drop-offs/any form of outdoor activities, I would like to immediately turn your attention to a pair of UGG summer sandals.
They're fluffy. They're casual. They're basically house slippers but honestly who even cares at this point?
Here's the whole furry deal. UGG is selling these glorified slippers for $100 and they come in four different colors: seashell pink, black, charcoal, and lantana (which is basically just a bright salmon pink). They're made from sheepskin, have a soft lining, a rubber outsole, and 1.5 wedge height. Yes, you might get a few weird looks when you wear these out in public. But also it's been such a long year and, honestly, the idea of putting on actual shoes right about now sounds kind of exhausting.
Not too bad, right? The UGG strap adds a (slight) elegance to the whole situation, and the designer suggests you pair the footwear with "midi dresses or your favorite jeans."
Ummm not that I'm encouraging you to take this whole look too far, but I bet there are several pajama tops in your closet that could also double as shirts. Because life would probably be a little bit better if we could all spend more time in our pajamas and slippers.
If you're really feeling this slipper look, there's several other options that (just barely) constitute as outdoor footwear. Like, hello, multicolored furry slides. These bad boys ring in at $195, are made from Toscana sheepskin, and have a leather lining. They are also super, super out there and every single mom who wears these outside the house deserves the YOLO award of the year.
While we're on the topic of moms who DGAF, I'd also like to draw your attention to these bleached denim slippers with stars embroidered on them. They look extremely comfy and are perfect for days when you have little to no interest in putting on a bra.
Now go get your feet into something super comfy. It's gonna be a long summer, and literally all social norms should be thrown firmly out the window. Glorified slippers for everyone.
This article was originally published on