If You Teach Your 8-Year-Old To Pole Dance, Don't Be Shocked When People Freak Out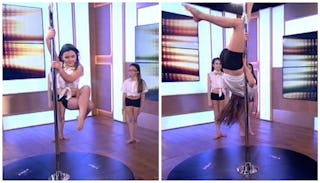 A UK morning show is under fire for a segment featuring elementary-aged "pole fitness" dancers.
Pole dancing has become something of a women's fitness phenomenon in recent years, but a UK talk show recently did a segment on kid's pole dancing classes, and it's understandably got a lot of people clutching their pearls.
ITV's This Morning, decided to tackle the fierce debate over allowing kids to participate in so-called "pole fitness" classes. For their segment, they featured three young girls showing off a sample of the moves kids learn in class. The girls — ages eight and 11 — don spandex shorts and tied up crop tops as they show off a few of the typical moves you'd expect to see a pole dancer complete. The only difference is, they're little kids, and that aspect alone had This Morning's audience saying, "Oh, hell no."
In an interview following the segment, two of the girls' moms, Lorraine Handbury and Lisa Grosse, discussed their decision to let their daughters participate in pole fitness. They likened the dance routines to gymnastics and argued that any sexual connotations were "invented" in the minds of adults. Said Grosse, "There's a pole on the playground they play at, they climb up it, they spin round it and down. What's the difference?'"
This Morning's viewers definitely didn't see the moms' side of the debate. Following the segment, Twitter exploded with harsh criticisms, not only of the parents, but also of the show for being willing to air such controversial footage. Viewers called the dancing "perverted" and accused the moms of "sexualising kids while trying to pass it off as exercise."
While there's no doubt that pole dancing helps people stay fit and is a unique expression of power and agility, it's also — at least in our culture — traditionally about celebrating sex appeal. When you take something people associate with strip clubs and add little kids in crop tops, that association tends to make people uncomfortable.
Emma Kenny, a psychologist who appeared on This Morning to talk about the dance form, said it's "inextricably linked to the adult past time" and argued that ages eight and 11 are probably too young to introduce something with such grown-up connotations. Obviously these kids aren't trying to be sexual and their parents likely have good intentions, but pole dancing as an activity just seems characteristically adult. Plus, you have to wonder why kids in an "exercise class" are being asked to tie up button-down shirts and bare their midriffs, rather than wearing leotards or other typical gymnastics attire.
Altogether, kids' pole fitness classes seem like an over-the-top way to accomplish virtually the same type of exercise kids could do in a traditional gymnastics class. There's no pressing reason to replace the balance beam with a pole, and you can hardly blame people for being a little bit creeped out. Pole dancing is not the same thing as sliding down a pole at a playground, and it's not at all surprising that lots of people notice the difference.
This article was originally published on