Students In Oregon Will Be Sent Home If They're Not Vaccinated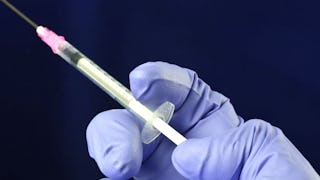 Image via Douglas Sacha/Getty
Unvaccinated students will be turned away from Oregon schools.
The public school system in Oregon is not messing around right now when it comes to vaccines. A new bill has been introduced that institutes Immunization Exclusion Day, which means kids who haven't gotten their shots will be sent back home. And this is not just a one day thing. The children won't be allowed back in school until their medical records prove that they've been vaccinated or that they have a legal evidence proving they're exempt from the rule.
The nitty gritty details of the new law mandates that students have their shots by February 21st, if they want to keep coming to school. That means that they need to have up-to-date vaccinations for chicken pox, polio, measles, hepatitis A and B, HIB, DPT, and MMR.
"Starting Feb. 21, children will not be able to attend class if they don't have immunization or exemption paperwork submitted prior to that date," Jonathan Modie, a spokesperson for the Oregon Health Authority, told Popsugar. "Records need to have been submitted to the school, by mail or in person, prior to the start of the school day on (Wednesday) Feb. 21. A parent or guardian may submit appropriate documentation/proof of immunization at any time on or after Exclusion Day and their child will immediately be allowed back in school."
This news comes on the heels of a 2013 study that declared Oregon the "most vaccine-skeptical state in the nation." The study cited that parents opted out of vaccinating their children because of religious reasons and fears that their children would be harmed as a result. In 2012, Portland-area schools were experiencing an insanely high population of unvaccinated students, including one school where 75% of students had not received their shots.
That trend has carried all the way over to 2017. The Oregonian estimated that almost 65% of public charter schools do not have herd immunity against measles. Obviously, that is a super troubling statistic. "If you drop a case of measles into one of those schools, it would spread like wildfire. So far, we've been lucky," Dr. Paul Cieslak, medical director of Oregon Public Health Division's infectious disease and immunization programs, told Oregon Live.
Yikes, yikes, yikessss. It definitely seems like action — however hardcore and sweeping — had to happen ASAP. If you're a parent who has no problem vaccinating your child but completely missed some doctor appointments, never fear. You can always head over to your neighborhood health department, pharmacy or pediatric clinic and get those shots over and done with.