This Christmas, Vaginas For Everyone!
by Maria Guido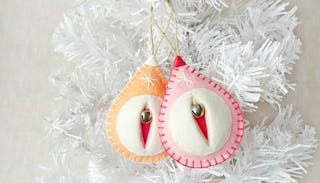 Image via Etsy
Nothing says "Happy Holidays!" like vaginaments
The holiday season is upon us, and soon we'll be breaking out the ornaments and buying our trees. If you've been troubled by something that just felt "missing" from your holiday decor, we've found out what it is.
Vaginaments.
They're colorful, they're cute, and they're perfect for tree-trimming parties.
Nothing says "festive" quite like some vulva hanging from a tree.
Yes, that's a jingle bell clitoris and some snowflake manicured pubes. Like we said… festive!
Suzane McAleenan from the Etsy shop FeltMelons makes them, and there is quite a bit of love and attention paid to each one — as there should be.
"When you gift a vaginament to your best pal, your mother, a hostess, you're gifting them a smile, every time they see it," McAleenan writes. "Every time a bell rings, a Vaginament® gets her wings!"
The shop offers several sizes and descriptions to please even the most discriminating vagina lover:
If you read through the reviews on the page, you'll see that everyone seems very pleased with there vaginas. They are so pretty!
A vagina for every tree… why not?
This article was originally published on