Vanessa Bryant Learned About Kobe's Fatal Helicopter Crash From Social Media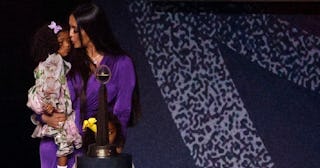 (Maddie Meyer via Getty Images Sport)
Vanessa Bryant learned about her husband's death when 'RIP Kobe' notifications started flooding her phone
In a new deposition, Vanessa Bryant said she learned about her husband and daughter's deaths on social media hours before she was contacted by the Los Angeles Sheriff's Department.
"I was holding onto my phone, because obviously I was trying to call my husband back, and all these notifications started popping up on my phone, saying 'RIP Kobe. RIP Kobe. RIP Kobe,'" Bryant said in a deposition on October 12.
https://www.instagram.com/p/CKm0P3QDCpH/
The tragic helicopter crash took the lives of Kobe Bryant, his 13-year-old daughter Gigi, and seven others on January 26, 2020. Los Angeles sheriff's deputies and fire department personnel took photos of the crash site. Some sent the photos to colleagues, and one shared the photos at a bar later that evening. Bryant is suing Los Angeles County for the emotional distress caused by this callous act.
"I don't think it's fair that I'm here today having to fight for accountability… Because no one should ever have to endure this type of pain and fear of their family members. The pictures getting released, this is not okay," Bryant said in the deposition.
Sheriff Alex Villanueva said he would secure the crash area — but didn't
https://www.instagram.com/p/CML4NbfD06o/
Bryant described the panic and dread she felt as she tried to find out what happened to her husband and daughter. At first, she was told there were five survivors, so she held out hope and tried to make her way to the crash site. Lakers general manager Rob Pelinka ended up driving her over two hours to the Malibu-Lost Hills station of the L.A. County Sheriff's Department. There, she was met with more silence as she begged for answers concerning their safety.
"I kept asking if my husband and daughter were OK," she said. "No one would answer me." She said she was then shuffled around different rooms in the station without any clarification on the situation.
https://www.instagram.com/p/CS7S8FvJ2P3/
"Then they walked us over to this little closet room area where we waited and waited. There was one sheriff present. And I asked him: What is happening? Why is no one telling me what is happening?"
Eventually, Sheriff Alex Villanueva arrived with a pastor and a publicist to speak with Bryant. "And he says, 'Is there anything I can do for you?' And I said: If you can't bring my husband and baby back, please make sure no one takes photographs of them. Please secure the area.' And he said: 'I will,'" Bryant said, according to the deposition transcript. She continued to beg Sheriff Villanueva to secure the area, and he assured her that "All is good. The area is secure." Clearly, it wasn't.