Vanilla Ice Performs At Maskless NYE Party At Mar-A-Lago
by Julie Scagell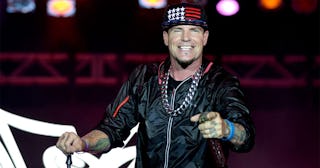 Manny Hernandez/Getty
Mr. Ice performed his only stand-out hit "Ice Ice Baby"
President Donald Trump's sons and his lawyer, Rudy Giuliani, were among the dozens of guests singing, "dancing," and going maskless at a New Year's Eve party hosted Mar-a-Lago. Another guest that's now disappointed millions of '90s fans — Robert Matthew Van Winkle (aka Vanilla Ice).
According to CNN, Fox News host Jeanine Pirro and randoms from the right-wing television network OANN were also in attendance at the Palm Beach resort. President Trump did not attend, having returned to Washington D.C. earlier in the day to battle his most recent loss with his defense bill getting vetoed and planning a trip to Georgia for the run-off election. But enough about that — Vanilla Ice is a MAGA supporter and someone hold me.
Video from inside the event, posted and then deleted by Team Trump member Sergio Gor showed a room full of people ringing in the New Year, dancing cheek-to-cheek, and screaming out lyrics to "Ice Ice Baby" in the manner only middle-aged white men (and Kimberly Guilfoyle) can.
The party is clearly going against CDC guidelines against mass, public gatherings without masks. More than 346,000 Americans have died since the pandemic began, according to data compiled by Johns Hopkins University.
Trump's absence was not planned, so guests were stuck with Giuliani, Don Jr., and Eric getting down on the dance floor to "Play That Funky Music," some songs performed by Berlin, and a performance by The Beach Boys. I paid good money to go see Vanilla Ice when he was on his, "I Love the '90s Tour" and I will be demanding my money back immediately (no offense to Salt or Pepa).
Tables at the venue were set for ten people, there was clearly zero social distancing in the ballroom, the menu consisted of "Mr. Trump's Wedge Salad," which probably tasted old and shriveled, and some cheese tortellini. There were 500 tickets sold in the four-figures for a chance to catch a deadly disease, which is a fun parting gift of Trump's presidency.
I follow a lot of political news and happenings and somehow Vanilla Ice supporting Trump escaped me in 2020. Now, not only do I have to break it to my husband that he can no longer chose him for his karaoke go-to, we also have to pass on future Vanilla Ice Project shows on HGTV.
More importantly, this gathering continues to fly in the face of every guideline from medical professionals and scientist and is a slap in the face to those who lost loved ones from COVID this year. It's not surprising, but it is a continued display of the selfishness and absurdity of some people.